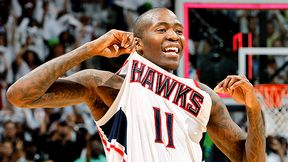 Kevin C. Cox/Getty ImagesHawks guard Jamal Crawford will join the show.
Friday morning, Mike Greenberg and Chris Broussard host from the Bristol, CT studios on ESPN Radio, ESPNRadio.com and ESPN2.
Joining Greeny and Broussard will be The Boston Globe's Bob Ryan (6:45 a.m. ET), ESPN MLB Insider Buster Olney (7:15 a.m.), ESPN NBA analyst Jalen Rose (8:00 a.m.), Atlanta Hawks guard Jamal Crawford (8:30 a.m.), seven-time NBA champion Robert Horry (8:45 a.m.) and Memphis Grizzlies coach Lionel Hollins (9:30 a.m.).
You can get in touch with Mike & Mike by emailing (mikeandmike@espnradio.com), texting to 73776 or tweeting to the guys at twitter.com/MikeAndMike -- we'll be with you from 6 a.m. to 10 a.m. ET.

The Dan Le Batard Show
4:00 p.m. - 7:00 p.m. ET
Listen


Updates |

Deportes

MikeAndMike

Mike & Mike


Continuing to thump on our guy RT @NU_Sports: Coach has seen a lot of people working hard today in Bristol. But... https://t.co/9RCVAKVccp
about 5 hours ago

Espngreeny

Mike Greenberg


Et tu, Fitzy?!RT "@NU_Sports: Coach has seen a lot of people working hard today in Bristol. But... https://t.co/dpmlFUiVf3"
about 5 hours ago

JonHeymanCBS

Jon Heyman


a's, all over lester, appears to have deal for him. #mysteryteam
about 6 hours ago

MikeAndMike

Mike & Mike


Getting ready to jump on with @SedanoESPN and Herm it's @OSUCoachMeyer #gobuckeyes http://t.co/uYlIAJFs0V
about 7 hours ago

MikeAndMike

Mike & Mike


The gauntlet has been thrown down. @coachfitz51 has denied @Espngreeny a chance at a 2nd honorary captain-ship.
about 7 hours ago

Espngreeny

Mike Greenberg


I just paid four dollars and forty one cents for a reasonably small bottle of water at O'Hare. I mean, seriously.
about 7 hours ago

MikeAndMike

Mike & Mike


On set with @SedanoESPN and Herm it's @coachfitz51 #B1GQuestions http://t.co/HCgtgisssB
about 7 hours ago

espngolic

Mike Golic


"@ColinStaehly: @espngolic were you able to hit up Peppos on this trip to Chicago?" Not this time..... Great place, had it many times
about 7 hours ago

OhioStAthletics

Ohio State Buckeyes


Eat your breakfast, get to work & by a TV/radio @OSUCoachMeyer is @espn all day! @MikeAndMike 9:30 kickoff! #GoBucks http://t.co/m2uS5p1BSK
about 7 hours ago

MikeAndMike

Mike & Mike


Coming up in the 9ET hour both @coachfitz51 and @OhioStAthletics Urban Meyer will be here. Ask a question with #B1GQuestions
about 8 hours ago

MikeAndMike

Mike & Mike


Herm diet tips: "Eat with your left hand. You get tired. When you are spilling stuff all down your shirt you say 'What am I doing?'"
about 8 hours ago

MikeAndMike

Mike & Mike


Back at it with @SedanoESPN and Herm Edwards today! MLB trade deadline later and taking your NFL training camp questions with #HelloHerm
about 10 hours ago

MikeAndMike

Mike & Mike


#sharknado2 is starting to get real!
about 18 hours ago

SBNation

SB Nation


SHARK HOME RUN! https://t.co/mZafax1e0w
about 18 hours ago

espngolic

Mike Golic


"@jamisonjoel: @JennyFuce @NDmom @espngolic That's awesome! Do they taste more like waffles or donuts?" A dense donuty waffle.....great
about 19 hours ago

espngolic

Mike Golic


"@chloreaney: @JennyFuce @espngolic guys, why. Why would wave such an impossibly delectable treat in our faces?? This is #mean" sooooo good
about 19 hours ago

espngolic

Mike Golic


"@JennyFuce: Soooo @espngolic and I discovered "Wonuts" today, aka waffle donuts 😭😭😭 http://t.co/KadlM9TjeH"just fantastic
about 19 hours ago

NDmom

christine golic


Back page of the Chicago Suntimes! Very cool! @espngolic @Espngreeny @MikeAndMike http://t.co/HPV8QZalDz
1 day ago

MikeAndMike

Mike & Mike


We like you, Chicago. A whole lot. http://t.co/3pEKNENFA0
1 day ago

Espngreeny

Mike Greenberg


Thanks to the @Suntimes for photo today. Look at the mechanics! Put me in, coach! I'm ready to play! @Cubs http://t.co/kKrhDZMrEI
1 day ago
NCAA TOURNAMENT BET PAYOFFS
Mike Greenberg completes the latest installment of the guys' bracket wager payoff. Photos


Watch: Greeny Milks a Cow


Watch: Greeny Gets Waxed


Watch: Greeny Competitively Eats


Watch: Greeny Sings Vanilla Ice

JAYSON STARK'S MLB TRIVIA
Jon Lester has won at least 15 wins five times since 2008. Only three other active pitchers have achieved at least four 15-win seasons since that year. Who are these individuals? Listen

BEST OF MIKE & MIKE ON ESPN RADIO: SHOW PREVIEW MAY 6, 2011