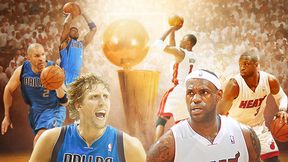 ESPN.com IllustrationGreeny and Golic will break down the NBA Finals.
Wednesday morning, Mike Greenberg and Mike Golic are back and better than ever from the Bristol, CT studios on ESPN Radio, ESPNRadio.com and ESPN2.
Joining Greeny and Golic will be ESPN.com Heat Index writer Brian Windhorst (7:30 a.m. ET), ESPN LA 710's Dave Miller (8:00 a.m.), ESPN NBA analyst Tim Legler (8:30 a.m.), ESPN Dallas 103.3FM's Chuck Cooperstein (8:45 a.m.) and ESPN NBA analysts Jalen Rose (9:15 a.m.) and Hubie Brown (9:30 a.m.).
You can get in touch with Mike & Mike by emailing (mikeandmike@espnradio.com), texting to 73776, tweeting to the guys at twitter.com/MikeAndMike or interacting with us on Facebook at facebook.com/ESPNMikeAndMike-- we'll be with you from 6 a.m. to 10 a.m. ET.

Coach & Company
11:00 a.m. - 2:30 p.m. ET
Listen


Updates |

Deportes

Espngreeny

Mike Greenberg


Wall. Beal. Gortat. Nene. Pierce. Pretty good. #Wizards
about 9 hours ago

Espngreeny

Mike Greenberg


The #Wizards are going to be really good. #PaulPierce
about 9 hours ago

Espngreeny

Mike Greenberg


Index is 10.8.RT "@IAMRINI: @Espngreeny Whats your handicap?"
about 12 hours ago

Espngreeny

Mike Greenberg


Pebble Beach. Oakmont. Riviera. Pacific Dunes. Whistling Straits.RT "@patnoonan21: what are the top 5 US courses you've played?"
about 12 hours ago

Espngreeny

Mike Greenberg


Not a cent. Just passing along my thoughts for golfers who follow.RT "@top40mogul: Please tell me you weren't compensated for the plugs."
about 12 hours ago

Espngreeny

Mike Greenberg


For golfers out there: Verdict on Bandon Dunes as a destination is 10 out of 10. They get the details right, and the golf is otherworldly.
about 12 hours ago

Espngreeny

Mike Greenberg


Old McDonald course today. Largest greens ever seen. Huge challenge for the putter. And, as you see, unreal scenery. http://t.co/FLWihrqFWr
about 12 hours ago

Espngreeny

Mike Greenberg


I'm not big on third place games anyway. But no team ever needed one less than Brazil today.
about 18 hours ago

Espngreeny

Mike Greenberg


I love the two headed monster of Gasol and Noah in Chicago. Rose is the key. If healthy, they can play with anyone in the East. #Bulls
about 18 hours ago

Espngreeny

Mike Greenberg


If the #Knicks were a stock, right now I'd buy. #Melo
about 18 hours ago

MikeAndMike

Mike & Mike


MEET NICK SABAN #Alabama football #RollTide bid now! http://t.co/dkgA6DzEyj Help @TheVFoundation #DontEverGiveUp
about 18 hours ago

MikeAndMike

Mike & Mike


BREAKING: Carmelo Anthony's representatives in contract negotiations with Knicks that will keep him in New York, according to @stephenasmith
about 21 hours ago

MikeAndMike

Mike & Mike


So many items, so many experiences. Don't miss out on a chance to help @TheVFoundation battle cancer. BID NOW http://t.co/LV62fuHJIC
1 day ago

Espngreeny

Mike Greenberg


One of my favorite people in the world has a message for you. She's one of Heidi's Angels.@JaneGreen @StacyGSG http://t.co/NZxDlGJmdm
1 day ago

Espngreeny

Mike Greenberg


Lebron James today proved, once and for all, that he gets it. #Cavs
1 day ago

Espngreeny

Mike Greenberg


Pat Riley is super smart, and a worthy HOFer. But NO ONE in their right mind would bet he wins title before Lebron does. #Heat #Cavs
1 day ago

MikeAndMike

Mike & Mike


So many items, so many experiences. Don't miss out on a chance to help @TheVFoundation battle cancer. BID NOW http://t.co/fNPZ7hlPK0
1 day ago

Espngreeny

Mike Greenberg


Pacific Dunes. Off the charts spectacular. Scenery, greens, tons of ocean views. Top five I've played in USA, easily. http://t.co/va9bjQPB5L
1 day ago

espngolic

Mike Golic


"@carthagecollier: @espngolic @billy_owens I'm guessing there will no "nutrition fact sheets" or "lite menus" in your place?" None
1 day ago

espngolic

Mike Golic


"@billy_owens: @espngolic will golic's beer and donuts be a diner, drive in or dive??" Uhhhh all 3
1 day ago
MIKE & MIKE AT THE MLB ALL-STAR GAME
NCAA TOURNAMENT BET PAYOFFS
Mike Greenberg completes the latest installment of the guys' bracket wager payoff. Photos


Watch: Greeny Milks a Cow


Watch: Greeny Gets Waxed


Watch: Greeny Competitively Eats


Watch: Greeny Sings Vanilla Ice

JAYSON STARK'S MLB TRIVIA
Miguel Cabrera will start in his ninth MLB All-Star Game on July 15. Only two other active players have participated in more Midsummer Classics than him. Who are these individuals? Listen

BEST OF MIKE & MIKE ON ESPN RADIO: SHOW PREVIEW JUNE 1, 2011