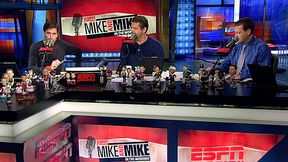 ESPN 2Mike Golic and Buster Olney will host.
Tuesday morning, Mike Golic and Buster Olney host from the Bristol, CT studios on ESPN Radio, ESPNRadio.com and ESPN2.
Joining Golic and Buster will be ESPN MLB Insider Jayson Stark (8:30 a.m. ET) and ESPN NFL Insider John Clayton (9:15 a.m.).
You can get in touch with Mike & Mike by emailing (mikeandmike@espnradio.com), texting to 73776, tweeting to the guys at twitter.com/MikeAndMike or interacting with us on Facebook at facebook.com/ESPNMikeAndMike-- we'll be with you from 6 a.m. to 10 a.m. ET.
MIKE & MIKE AT NBA ALL-STAR WEEKEND
MIKES AND ME
Now you can be pictured with Mike & Mike! Print this image, pose with the Mikes and tweet your photo to @MikeAndMike using the hashtag #MikesAndMe for a chance to be featured here and on the show. Watch

espngolic

Mike Golic


"@1717mnt: @espngolic @jmcstravick70 either of u know how to get tickets. Sold out super quick. Been every yr. not sure, I'll check
10 minutes ago

Espngreeny

Mike Greenberg


Can't tell you how much I admire @Realrclark25 for his professionalism on our set while his NFL career hangs in the balance.
about an hour ago

espngolic

Mike Golic


"@jmcstravick70: @espngolic are you playing in Monday After The Masters this year"yes
about 3 hours ago

Espngreeny

Mike Greenberg


Made me laugh aloud.RT "@FauxJohnMadden: #Raiders re-sign Darren McFadden to one-year deal, immediately list him as "doubtful" for Week 1."
about 3 hours ago

Espngreeny

Mike Greenberg


RT @StacyGSG: Thanks, all, for all the lovely Birthday Wishes! Going to be the best year yet! http://t.co/C3aGsdFVHn
about 3 hours ago

Espngreeny

Mike Greenberg


Our friend Stuart. Toughest guy you'll ever meet. And through it all, still cooler than the other side of the pillow.http://t.co/edp86La9wy
about 7 hours ago

MikeAndMike

Mike & Mike


Read this story about a man who planned his entire wedding http://t.co/PKfrpM0ttd Guys how would that go over with your wife? #ManPlan
about 11 hours ago

MikeAndMike

Mike & Mike


NFL free agency at the talk stage. RT @AdamSchefter Two teams to watch in CB Darrelle Revis once Tampa releases him: #Eagles and #Patriots
about 12 hours ago

MikeAndMike

Mike & Mike


Go ahead and vote in his poll! @Espngreeny RT if you'd rather have Noah. FAV if you'd rather have Griffin. #MikeAndMike
about 13 hours ago

Espngreeny

Mike Greenberg


RT if you'd rather have Noah.FAV if you'd rather have Griffin.#MikeAndMike
about 13 hours ago

MikeAndMike

Mike & Mike


Stay tuned here today for free agency, or if only just to hear the #SchefterAlert when news breaks. http://t.co/K2Du5Uyc5d
about 14 hours ago

Espngreeny

Mike Greenberg


RT @ABC: Man plans entire surprise wedding for unsuspecting fiancée: http://t.co/H8ybQZvEhP
about 14 hours ago

espngolic

Mike Golic


"@atr7464: first episode of 'house of cards' in the books. needless to say, i'm already hooked. 🎣" just wait... Keeps getting better
about 22 hours ago

Espngreeny

Mike Greenberg


This is on the money.RT "@WojYahooNBA: Column: New York's doomed partnership of Phil Jackson and James Dolan. http://t.co/TIaimXu575"
1 day ago

Espngreeny

Mike Greenberg


Santonio Holmes was as difficult to root for as any player my favorite team has ever had. I wish him luck, anywhere else. #Jets
1 day ago

espngolic

Mike Golic


"@JNoyesMaker: Final update: I HAVE SPILLED MUSTARD. All hopes of romance are over."some guys may dig that
1 day ago

Espngreeny

Mike Greenberg


RT "@Chris_Broussard: All indications are Phil Jackson will accept NYK front-office job. Title not yet clear, not coach or mere consultant"
1 day ago

espngolic

Mike Golic


"@CaseyKdot6: @espngolic chuck Norris lost his virginity before his dad" I think this is the best one, and I love so many of them
1 day ago

Espngreeny

Mike Greenberg


Who would you rather have: Blake Griffin or Joakim Noah?#Clippers #Bulls
1 day ago

Espngreeny

Mike Greenberg


Darren Sproles is exactly what the #Patriots need.
1 day ago
BEST OF MIKE & MIKE ON ESPN RADIO: SHOW PREVIEW JULY 5, 2011