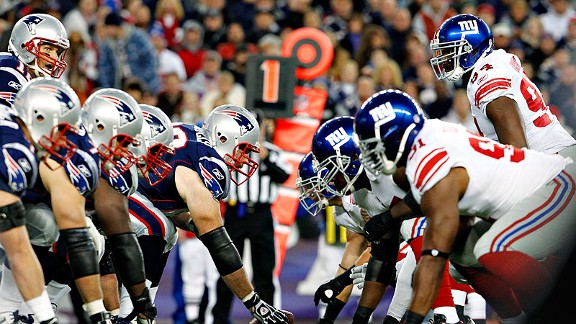 David Butler II/US PresswireTrent Dilfer tells the guys about Giants-Patriots, Eli Manning, Tom Brady and much more.
• ESPN NFL analyst Trent Dilfer shares his thoughts on Joe Flacco, Alex Smith, Tom Brady, the Patriots' offensive gameplan against the Ravens, Eli Manning, the Super Bowl matchup and more. Dilfer

• ESPN NFL analyst Cris Carter covers Eli Manning, Kyle Williams, Victor Cruz, Sterling Moore's play on Lee Evans' near-TD catch, Billy Cundiff, Peyton Manning, Giants-Patriots and more. Carter

• ESPN NFL analyst Merril Hoge discusses how players react to season-ending moments, what surprised him about the conference title games, the performances of the four QBs and more. Hoge

• ESPN NFL analyst Mike Ditka dishes on how the Ravens and the 49ers will handle the end of their seasons, the play of the QBs in the conference title games and more. Ditka

• ESPN football guru Mel Kiper Jr. reacts to Baltimore's loss in the AFC title game. Kiper Jr. covers Joe Flacco, Billy Cundiff and the lack of a replay on Lee Evans' near-TD catch.
Kiper Jr.

• Greeny and Golic react to Ravens-Patriots and Giants-49ers. What roles did the mistakes by Billy Cundiff and Kyle Williams play in their teams' losses? Listen

• Greeny and Golic explain why the Giants' run is similar to their unlikely Super Bowl win after the 2007 season. Plus, more on Eli Manning, Billy Cundiff, Kyle Williams and Tom Brady. Listen

• Greeny and Golic talk about Peyton Manning's reaction to the Giants' win and Billy Cundiff's missed FG at the end of the Ravens' loss to the Patriots. Was Cundiff late getting onto the field? Listen

• Greeny and Golic comment on the death of Joe Paterno. Greenberg thinks that Paterno's legacy will become clearer with the passing of time. Listen

-Check out today's podcast for more Mike & Mike. Listen