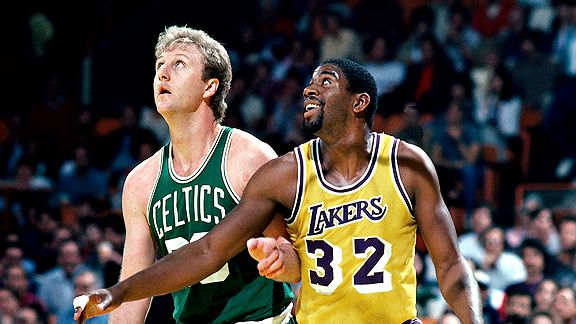 Andrew D. Bernstein/Getty ImagesMagic Johnson tells the guys about Lakers-Thunder, Pacers-Heat, LeBron James, Larry Bird and more.
• ESPN NBA analyst Magic Johnson dishes on Lakers-Thunder, Mike Brown's gameplan, Kobe Bryant, James Harden, the scrutiny of LeBron James, Pacers-Heat, Larry Bird and more. Johnson

• ESPN NBA analyst Jeff Van Gundy discusses Lakers-Thunder, Los Angeles' late-game execution, Kobe Bryant, LeBron James, Kevin Garnett, Tim Duncan, Chris Bosh's injury and more. Van Gundy

• ESPN NBA analyst Tim Legler covers Lakers-Thunder, Celtics-76ers, Kevin Garnett, Tim Duncan, Doug Collins' postgame remarks about Boston and the Heat, Larry Bird and more. Legler

• ESPN MLB Insider Tim Kurkjian talks about Albert Pujols' second home run of the season, the Angels' dismissal of Mickey Hatcher, Terry Collins, David Wright and more. Kurkjian

• Celtics analyst Cedric Maxwell comments on Boston's win at Philadelphia in Game 2, Rajon Rondo, Kevin Garnett, Larry Bird and more. Maxwell

• Greeny and Golic share their thoughts on the Thunder's fourth-quarter comeback to beat the Lakers in Game 2, Kevin Durant, Kobe Bryant and Metta World Peace. Listen

• Has Larry Bird had the greatest all-around career in the history of American sports? Greeny and Golic weigh in. Listen

-Check out today's podcast for more Mike & Mike. Listen

PODCASTS
A daily offering of the best of ESPN Radio's Mike and Mike.