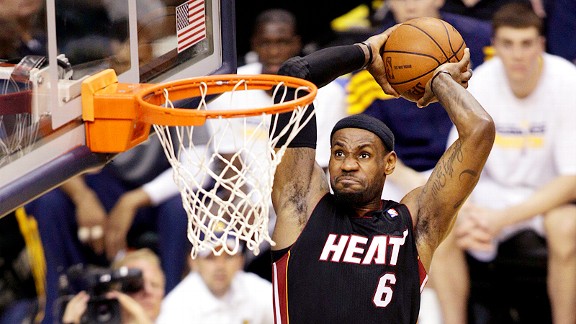 AP Photo/AJ MastDan Le Batard tells Greeny and Tim Legler about LeBron James, Dwyane Wade, Chris Bosh and more.
• ESPN's Dan Le Batard dishes on Heat-Pacers, the pressure that Dwyane Wade and LeBron James faced heading into Game 4, Erik Spoelstra's future, Chris Bosh, Pat Riley and more. Le Batard

• ESPN New York 98.7 FM's Stephen A. Smith reacts to being parodied on "Saturday Night Live" and covers 76ers-Celtics and Lakers-Thunder. Smith

• ESPN NBA analyst Chris Mullin discusses Heat-Pacers, the scrutiny of LeBron James, Dwyane Wade and Miami, the future of the Lakers, a potential Thunder-Spurs matchup and more. Mullin

• ESPN.com's Brian Windhorst weighs in on Heat-Pacers, where LeBron James' effort in Game 4 ranks among his best playoff performances, Dwyane Wade, Chris Bosh's status and more. Windhorst

• ESPN LA 710's Dave Miller shares his thoughts on LeBron James, Dwyane Wade, Pau Gasol, Lakers-Thunder, Russell Westbrook, Kevin Durant, Chris Paul and the Clippers' future. Miller

• I'll Have Another trainer Doug O'Neill talks about winning the Preakness, Mario Gutierrez, Bodemeister, the possibility of claiming the Triple Crown at Belmont and more. O'Neil

• ESPN MLB Insider Buster Olney covers the slow starts by the Red Sox and the Yankees, Lance Berkman, Stephen Strasburg, Matt Kemp and more. Olney

• Greeny and Legler comment on the Heat's win over the Pacers in Game 4, the performances of LeBron James and Dwyane Wade, Spurs-Clippers and more. Listen

-Check out today's podcast for more Mike & Mike. Listen

PODCASTS
A daily offering of the best of ESPN Radio's Mike and Mike.