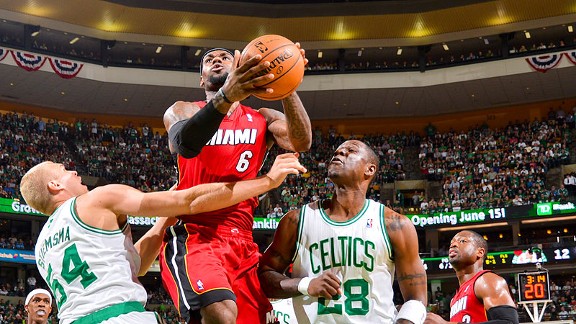 Jesse D. Garrabrant/NBAE via Getty ImagesBrian Windhorst tells Adnan Virk and Doug Gottlieb about Heat-Celtics, LeBron James and much more.
• ESPN.com's Brian Windhorst comments on where LeBron James' performance in Game 6 ranks, James' demeanor, Chris Bosh, Erik Spoelstra and more. Windhorst

• ESPN NBA analyst Kurt Rambis dishes on Heat-Celtics, LeBron James' masterful performance in Game 6, the impact of Chris Bosh's presence, the NBA Finals and more. Rambis

• The Boston Globe's Bob Ryan weighs in on Heat-Celtics, LeBron James, Kevin Garnett, Paul Pierce, the impact of Chris Bosh's return, Ray Allen, Boston's future and more. Ryan

• ESPN Boston's Chris Forsberg talks about Heat-Celtics, Paul Pierce's struggles, the futures of Kevin Garnett, Ray Allen and Pierce, his expectations for Game 7 and more. Forsberg

• Heat analyst John Crotty covers LeBron James' dominance in Miami's win at Boston in Game 6, Erik Spoelstra, Chris Bosh and more. Crotty

• Adnan and Gottlieb share their thoughts on LeBron James' dominant performance in the Heat's win over the Celtics in Game 6 and more. Listen

-Check out today's podcast for more Mike & Mike. Listen

PODCASTS
A daily offering of the best of ESPN Radio's Mike and Mike.