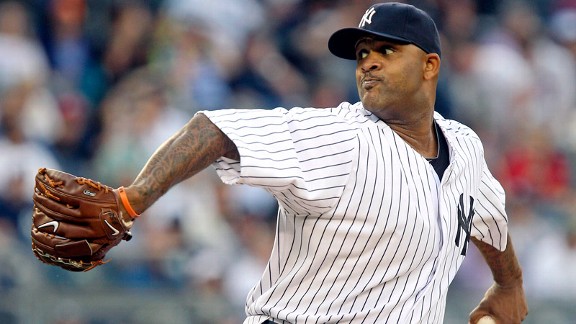 AP Photo/Seth WenigCC Sabathia tells the guys about LeBron James, playing for the Yankees, Derek Jeter and much more.
• Yankees P CC Sabathia comments on LeBron James, pitching in New York, how young pitchers are handled, Stephen Strasburg, being Derek Jeter's teammate, the AL East and more. Sabathia

• Saints QB Drew Brees dishes on his contract status, the NFL's handling of the punishment for bounties, Roger Goodell, whether he will let his son play football and more. Brees

• ESPN NBA draft Insider Chad Ford covers the Bobcats' plan for the No. 2 pick, Thomas Robinson, Bradley Beal, Michael Kidd-Gilchrist, Anthony Davis, Jared Sullinger and more.
Ford

• ESPN NFL analyst Herm Edwards weighs in on his experience at the NFL's Rookie Symposium, whether he thinks that players listened while he spoke and more. Edwards

-Check out today's podcast for more Mike & Mike. Listen

PODCASTS
A daily offering of the best of ESPN Radio's Mike and Mike.