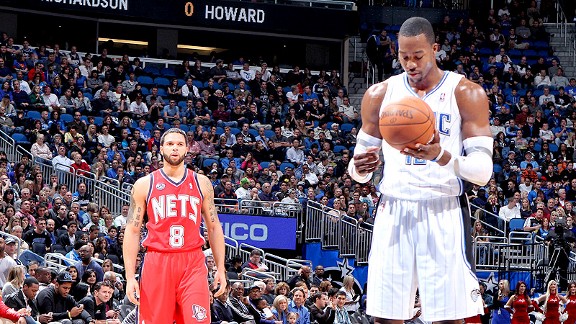 Gary W. Green/Orlando Sentinel/Getty ImagesWill Dwight Howard and Deron Williams join forces in Brooklyn?
With Mike Golic and Marcellus Wiley:
• ESPN NBA Insider Ric Bucher discusses Orlando Magic center Dwight Howard's trade demand. Star players eventually get what they want. Listen

• ESPN NBA Insider Chris Broussard says Dwight Howard is putting out the message that he won't sign a long-term deal with anyone but the Nets. Plus, Broussard talks about Deron Williams, Steve Nash and Ray Allen. Listen

• ESPN legal analyst Roger Cossack says he doesn't think Jonathan Vilma has much of a case against the NFL. Listen

• BCS executive director Bill Hancock explains how college football decided on the four-team playoff that will begin in 2014. Listen

• ESPN MLB Insider Buster Olney breaks down the 2012 MLB All-Star Game rosters. Cincinnati Reds pitcher Johnny Cueto is this year's big snub. Listen

-Check out today's podcast for more Mike & Mike. Listen

WHO'S IN?
Listen live to Mike & Mike for the daily winning word for your chance to win a trip to the College Football Playoff. Enter » Listen (6-10 a.m. ET)

NCAA TOURNAMENT BET PAYOFFS
Mike Greenberg completes the latest installment of the guys' bracket wager payoff. Photos


Watch: Greeny Milks a Cow


Watch: Greeny Gets Waxed


Watch: Greeny Competitively Eats


Watch: Greeny Sings Vanilla Ice

BEST OF MIKE & MIKE ON ESPN RADIO: SHOW IN REVIEW JULY 2