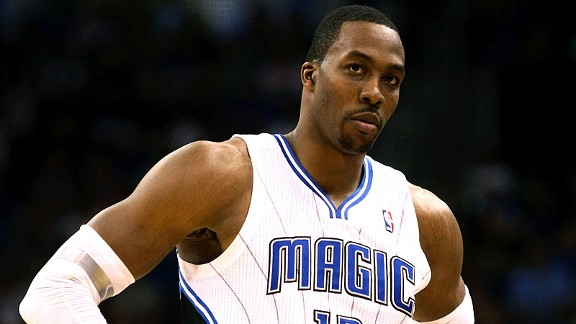 Douglas Jones/US PresswireDwight Howard may still be able to find a way to Brooklyn.
• ESPN New York's Ryan Ruocco says even the possibility of Dwight Howard going to Nets could convince Deron Williams to stay. Listen

• Boston Globe columnist Bob Ryan says the Nets would be very formidable if they can land Dwight Howard to go along with Deron Williams and Joe Johnson. Ryan also talks about the possibility of the Celtics staying together. Listen

• ESPN NBA Insider Chris Broussard updates the latest on the possibility that Orlando Magic center Dwight Howard could be traded to the Nets for Brook Lopez, Kris Humphries, MarShon Brooks and three No. 1 picks. Listen

• ESPN Dallas' Chuck Cooperstein says if Deron Williams wants to win, he'll go to Dallas. If Williams wants money, he'll go back to the Nets. That could change if the Nets land Dwight Howard though. Listen

• ESPN MLB Insider Jayson Stark shares his trivia and talks about the All-Star snubs and the relationship between Dusty Baker and Tony La Russa. Listen

• Former heavyweight champion Mike Tyson talks about his career and his upcoming one-man show. Listen

Spike Lee is directing the show and it runs from July 31 through August 12. Spike Lee talks about it here.