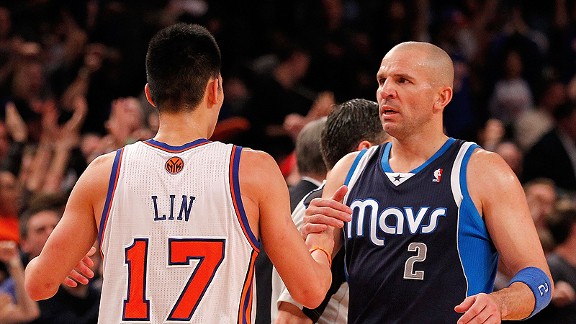 Paul Bereswill/Getty ImagesJason Kidd left Dallas for New York. Will the Knicks keep Jeremy Lin as well?
• ESPN NBA Insider Marc Stein talks about Jason Kidd's decision to leave Dallas for New York. Stein says it would be a shock if the Knicks don't match the Rockets offer for Jeremy Lin. Listen

• ESPN NBA analyst Jalen Rose says the Nets move up to a No. 4 to 7 seed in the East with the moves they have made. Rose says the Thunder are still the team to beat in the West. Listen

• ESPN MLB Insider Buster Olney shares his thoughts on Reggie Jackson's recent comments. Plus, Olney previews the Yankees-Red Sox series. Listen

• MLB Network analyst John Smoltz says it would be great for the Red Sox to win the series against the Yankees but it's more important for them to get healthy for the second half of the season. They have plenty of games left with the Yankees. Smoltz also explains why the games right before and after the break can be tougher for teams. Listen

• MLB on FOX announcer Joe Buck says the young players coming up in the game have made this season very exciting for baseball fans. Listen

PODCASTS
A daily offering of the best of ESPN Radio's Mike and Mike.