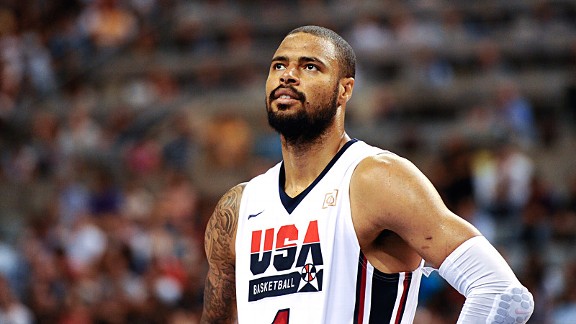 David Ramos/Getty ImagesTyson Chandler tells Mike Hill and Mark Schlereth about the Olympics, Carmelo Anthony and more.
• U.S. Olympian Tyson Chandler dishes on the United States' win over Nigeria, coming together as a team, Carmelo Anthony's performance, Anthony Davis' jersey mishap and more. Chandler

• Pro Football Hall of Fame inductee Curtis Martin discusses preparing for his big weekend in Canton, Bill Parcells' impact, the role of RBs in the NFL and more. Martin

• ESPN MLB Insider Buster Olney comments on Ryan Dempster's debut with the Rangers, Cliff Lee's future in Philadelphia, Bobby Valentine's remarks about him and more. Olney

• ESPN NFL reporter Sal Paolantonio talks about the atmosphere at the Jets' training camp, Mark Sanchez, Tim Tebow, Santonio Holmes, his expectations for the Eagles and more. Paolantonio

• ESPN NFL analyst Damien Woody weighs in on Mark Sanchez, Tim Tebow, what training camp is like, Michael Vick, Eli Manning and more. Woody

-Check out today's podcast for more Mike & Mike. Listen

PODCASTS
A daily offering of the best of ESPN Radio's Mike and Mike.