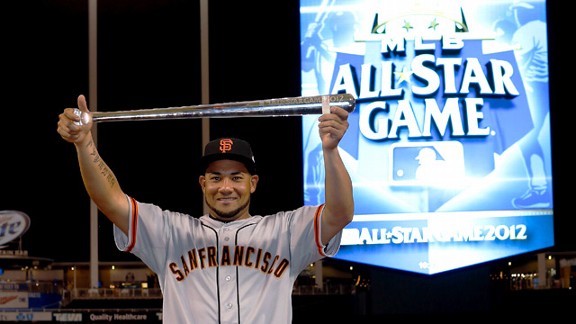 Jamie Squire/Getty ImagesBuster Olney tells Mike Hill and Mark Schlereth about Melky Cabrera, the Nationals and the Red Sox.
• ESPN MLB Insider Buster Olney covers the reaction to Melky Cabrera's suspension, the Nationals' handling of Stephen Strasburg, the state of the Red Sox and more. Olney

• ESPN NFL reporter Sal Paolantonio talks about Mark Sanchez, the impact of the injuries to the Jets' WRs, how the rivalry between New York's teams has changed and more. Paolantonio

• Author Jane Leavy discusses her Grantland column on Dr. Ann McKee, who is attempting to make the game of football safer. Leavy

• Greeny and Golic look ahead to the Bills' season in "Two-A-Days." How will the addition of Mario Williams impact Buffalo's defense in 2012? Two-A-Days »
• Greeny and Golic preview the Dolphins' season in "Two-A-Days." Should Ryan Tannehill become Miami's starting QB in 2012? Two-A-Days »
-Check out today's podcast for more Mike & Mike. Listen


The Coach & Bretos
12:00 p.m. - 3:00 p.m. ET
Listen


Updates |

Deportes

BEST OF MIKE & MIKE PODCAST
JAYSON STARK'S MLB TRIVIA
Adrian Beltre is one of three active players with at least 300 home runs and four Gold Gloves. Who are the other two individuals? Listen

FRANK CALIENDO
Our favorite moments with Frank Caliendo:
-Watch: 'A Visit from St. Nicholas'


-Watch: William Shatner


-Listen: #GolicButtPhoto voicemails


-Watch: Donald Trump


-Listen: Trick-or-Treat


-Watch: Stephen A. Smith


-Watch: Mel Kiper Jr.


-Watch: Charles Barkley


-Watch: Allen Iverson's rant


-Watch: Remembering Robin Williams


-Watch: LeBron James' letter

OFF-MIKES EPISODES
View episodes of ESPN.com's first Emmy winner, "Off-Mikes," a series based on the interactions of Greeny and Golic on "Mike & Mike."
-"Snook, Line and Sinker"


-"Wee-Wee Mon Sewer"


-"Raging Bull-Oney"


-"Bend It Like Golic"


-"The Wettest Yard"


-"Pomp You Up"


-"Throw Momma from the Chair"


-"Air Force Ton"


-"Night of the Living Chippers"

BEST OF MIKE & MIKE ON ESPN RADIO: SHOW IN REVIEW AUGUST 17