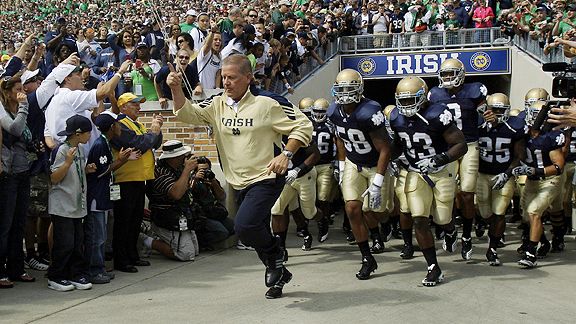 AP Photo/Darron CummingsRick Reilly tells Golic and Adnan Virk about his criticism of Notre Dame football and much more.
• ESPN's Rick Reilly and Golic continue their debate about Notre Dame's role in college football. Reilly

• ESPN NFL analyst Mark Schlereth weighs in on what he watches for during the preseason, Andrew Luck, the success of young QBs, replacement officials and more. Schlereth

• ESPN CFB analyst David Pollack dishes on the additions to the Big 12, the strength of the SEC, Heisman Trophy candidates, the future of college football's postseason and more. Pollack

• ESPN senior fantasy analyst Matthew Berry covers Cam Newton, Peyton Manning, Aaron Rodgers, Robert Griffin III, Andrew Luck, Matthew Stafford, Matt Ryan, Tom Brady and more. Berry

• Golic and Adnan look ahead to the Chiefs' season in "Two-A-Days." How will Kansas City use Jamaal Charles and Peyton Hillis? Two-A-Days »
• Golic and Adnan preview the Seahawks' season in "Two-A-Days." What should Seattle expect from Matt Flynn in 2012? Two-A-Days »
-Check out today's podcast for more Mike & Mike. Listen

PODCASTS
A daily offering of the best of ESPN Radio's Mike and Mike.