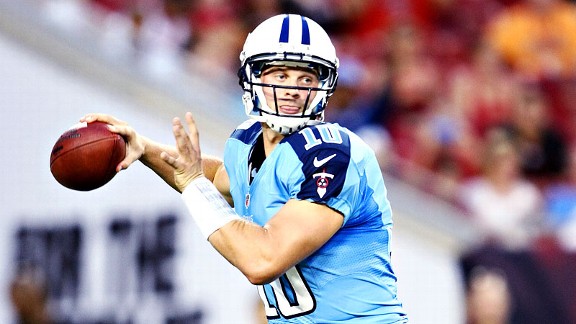 Douglas Jones/US PresswireMike Munchak tells Golic and Adnan Virk about Jake Locker, Chris Johnson, Kenny Britt and more.
• Titans coach Mike Munchak dishes on why Jake Locker will be Tennessee's starting QB, Matt Hasselbeck, Chris Johnson, Kenny Britt, Kendall Wright and more. Munchak

• ESPN NFL Insider John Clayton weighs in on Michael Vick's injury, whether Russell Wilson could be the Seahawks' starting QB, Ryan Tannehill, Adrian Peterson and more. Clayton

• ESPN NFL analyst Cris Carter comments on Michael Vick's injury, his expectations for Ryan Tannehill, DeSean Jackson's controversial remarks about effort, hazing and more. Carter

• ESPN MLB Insider Jayson Stark talks about Roger Clemens' return to baseball in an independent league, the cost of Melky Cabrera's suspension, the NL West race and more. Stark

• ESPN senior fantasy analyst Matthew Berry covers Ray Rice, Arian Foster, LeSean McCoy, Maurice Jones-Drew, Adrian Peterson, Darren McFadden, Ryan Williams and more. Berry

• USA Today's Christine Brennan discusses Augusta National Golf Club's decision to admit female members for the first time, Billy Payne and more. Brennan

• Golic and Adnan look ahead to the Cowboys' season in "Two-A-Days." How will Jason Witten's injury impact Tony Romo? Two-A-Days »
• Golic and Adnan preview the Cardinals' season in "Two-A-Days." Who should be Arizona's starting QB in 2012? Two-A-Days »
• Golic and Adnan share their thoughts on the injury that Michael Vick suffered, the decision to make Ryan Tannehill the Dolphins' starting QB and more. Listen

-Check out today's podcast for more Mike & Mike. Listen

PODCASTS
A daily offering of the best of ESPN Radio's Mike and Mike.