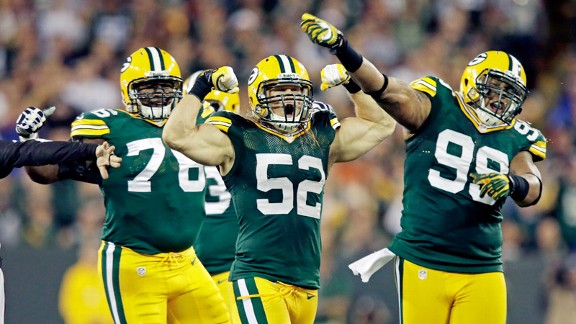 AP Photo/Jeffrey PhelpsThe guys give their takes on Bears-Packers, Clay Matthews, Jay Cutler, Aaron Rodgers and more.
• Basketball Hall of Famer Magic Johnson sets the terms of his friendly wager with Mike Golic over the matchup between Notre Dame and Michigan State. Johnson

• Free agent NFL WR Plaxico Burress talks about his future, Mark Sanchez, the Jets' offense, Notre Dame-Michigan State, Jay Cutler and more. Burress

• ESPN NFL analyst Ron Jaworski covers Bears-Packers, Jay Cutler, Clay Matthews, Michael Vick, Robert Griffin III, the Redskins' defense, the Patriots' offense and more. Jaworski

• ESPN football guru Mel Kiper Jr. comments on Jay Cutler's body language, Alabama-Arkansas, Tyler Wilson, Notre Dame-Michigan State and more. Kiper Jr.

• ESPN MLB Insider Buster Olney discusses Rays-Orioles, the NL wild-card races, Andy Pettitte, Ozzie Guillen's future in Miami, Ryan Braun's NL MVP candidacy and more. Olney

• Chicago's ESPN 1000's Tom Waddle weighs in on the Bears' loss to the Packers, the reaction to Jay Cutler's heated exchange with J'Marcus Webb and more. Waddle

• Four-time All-Pro LeRoy Butler dishes on Bears-Packers, the performance of Green Bay's defense, Jay Cutler's on-field conduct, Clay Matthews, Aaron Rodgers and more. Butler

• ESPN NASCAR analyst Dale Jarrett gives his take on the start of the Chase for the Sprint Cup, Denny Hamlin, Jimmie Johnson, Clint Bowyer and more. Jarrett

• Greeny and Golic react to the Packers' win over the Bears. Did Jay Cutler's on-field demeanor cross a line? Listen

• Greeny and Golic make their picks for Week 2 of the NFL season in the "Stone Cold Lead Pipe Locks." Locks »