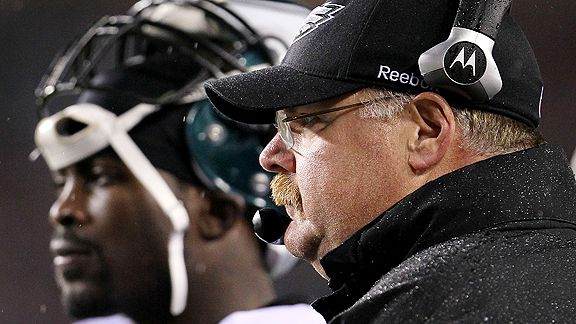 Chris McGrath/Getty ImagesAndy Reid tells the guys about Michael Vick, LeSean McCoy, the Eagles' 2-1 start and much more.
• Eagles coach Andy Reid talks about Philadelphia's 2-1 start, Michael Vick's status as the starting QB, LeSean McCoy's usage, preparing to face the Giants and more. Reid

• ESPN NFL analyst Ron Jaworski covers Giants-Eagles, Michael Vick, Andy Reid, Eli Manning, Browns-Ravens, Joe Flacco, Jay Cutler, the Jets' offense, Christian Ponder and more. Jaworski

• ESPN NFL reporter Sal Paolantonio discusses Giants-Eagles, Michael Vick, Eli Manning, Tim Tebow's role with the Jets, the return of the referees, Bears-Cowboys and more. Paolantonio

• ESPN football guru Mel Kiper Jr. comments on Joe Flacco's potential, Stanford-Washington, the state of the Big Ten, Ohio State-Michigan State, Notre Dame's 4-0 start and more. Kiper Jr.

• ESPN MLB Insider Buster Olney dishes on the Rays' push for a postseason spot, the White Sox's struggles, whether Melky Cabrera will return in October, R.A. Dickey and more. Olney

• Super Bowl XXXV champion Brian Billick weighs in on the Eagles' offense, the Cardinals' 3-0 start, Christian Ponder, Carson Palmer, the Saints' struggles and more. Billick

• ESPN NASCAR analyst Dale Jarrett talks about what racing at Dover is like, Jimmie Johnson's lead in the Chase for the Sprint Cup, Tony Stewart, Denny Hamlin and more. Jarrett

• Greeny and Golic share their thoughts on the Ravens' win over the Browns, Joe Flacco, Ray Rice, Brandon Weeden, the return of the NFL's referees and more. Listen

• Greeny and Golic make their picks for Week 4 of the NFL season in the "Stone Cold Lead Pipe Locks." Locks »