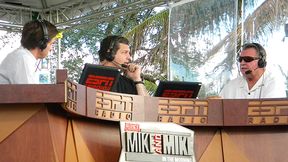 ESPNRadio.comThe guys will recap NFL Week 6 with Mike Ditka.
Greeny and Golic welcome ESPN MLB Insider Buster Olney (6:45 a.m. ET), ESPN NFL analyst Cris Carter (7:30), comedian Frank Caliendo (8:00), ESPN NFL analyst Mike Ditka (8:15), ESPN NFL analyst Ron Jaworski (8:30) and ESPN NFL analyst Antonio Pierce (9:15) to the show on Monday.
Get in touch with Mike & Mike by emailing (mikeandmike@espnradio.com), texting (73776) or tweeting the guys (@MikeAndMike) -- we'll be with you from 6-10 a.m. ET. Follow all of the action on ESPN2, ESPN Radio or ESPNRadio.com.
Espngreeny

Mike Greenberg


Lebron James today proved, once and for all, that he gets it. #Cavs
about 2 hours ago

Espngreeny

Mike Greenberg


Pat Riley is super smart, and a worthy HOFer. But NO ONE in their right mind would bet he wins title before Lebron does. #Heat #Cavs
about 3 hours ago

MikeAndMike

Mike & Mike


So many items, so many experiences. Don't miss out on a chance to help @TheVFoundation battle cancer. BID NOW http://t.co/fNPZ7hlPK0
about 6 hours ago

Espngreeny

Mike Greenberg


Pacific Dunes. Off the charts spectacular. Scenery, greens, tons of ocean views. Top five I've played in USA, easily. http://t.co/va9bjQPB5L
about 8 hours ago

espngolic

Mike Golic


"@carthagecollier: @espngolic @billy_owens I'm guessing there will no "nutrition fact sheets" or "lite menus" in your place?" None
about 9 hours ago

espngolic

Mike Golic


"@billy_owens: @espngolic will golic's beer and donuts be a diner, drive in or dive??" Uhhhh all 3
about 9 hours ago

espngolic

Mike Golic


"@BraxstonCave52:Got engaged to this beautiful girl today @nataliekaye9 http://t.co/l0fTS7obwj" congrats @BraxstonCave52 and @nataliekaye9
about 9 hours ago

JGolic88

Jake Golic


Anyone in cincy wanna golf this weekend? Just got a new set! http://t.co/q0K46n8Rd7
about 10 hours ago

espngolic

Mike Golic


"@HollowPoint40: @espngolic @Cranesrooster @darthlucian88 I've got the perfect salad for you, Golic. http://t.co/2NBOsSbB7d" that works
about 10 hours ago

espngolic

Mike Golic


"@Cranesrooster: @espngolic @darthlucian88 and Oreo's for croutons" nice touch
about 10 hours ago

MikeGolicHOFInc

Mike Golic HOF Lobby


From @PlainDealer: Golic to open restaurant in vacant flophouse on Euclid Ave. 2nd biggest story in Cleveland today. http://t.co/lUL55vIrW5
about 10 hours ago

MikeAndMike

Mike & Mike


You can own a piece of history! Bid on this signed LeBron #Heat jersey now http://t.co/VgRowTPlyr Help @TheVFoundation #DontEverGiveUp
about 12 hours ago

espngolic

Mike Golic


"@darthlucian88: @espngolic come on golic got to have a salad for girls and greeny"yep broken up donuts in a bowl with icing as the dressing
about 14 hours ago

espngolic

Mike Golic


"@EA_Dad: @espngolic Absurd money has a way of helping with differences." He was getting that money anywhere he went
about 14 hours ago

espngolic

Mike Golic


"@thevhb: @espngolic already one: @brewnuts . Place is fantastic." Where is that place.,.. Maybe I can bring it to Cleveland
about 14 hours ago

espngolic

Mike Golic


"@Mr_Bullseye: @espngolic and don't forget the brats" true..... Just know whatever I open will have 0 healthy choices
about 14 hours ago

espngolic

Mike Golic


"@Birdman_33: @espngolic @Brewnuts" ohhhhh that's really good
about 14 hours ago

espngolic

Mike Golic


"@1irishchocolate: @espngolic Cleveland is cursed Mr.Golic" it's gotta end at some point @1irishchocolate
about 14 hours ago

espngolic

Mike Golic


Time to open up a business in downtown Cleveland....how about..."Beers and Donuts"
about 14 hours ago

espngolic

Mike Golic


Huge news for Cleveland, great move by LeBron, showing you can put differences aside, just need a happy championship ending.
about 14 hours ago
MIKE & MIKE AT THE MLB ALL-STAR GAME
NCAA TOURNAMENT BET PAYOFFS
Mike Greenberg completes the latest installment of the guys' bracket wager payoff. Photos


Watch: Greeny Milks a Cow


Watch: Greeny Gets Waxed


Watch: Greeny Competitively Eats


Watch: Greeny Sings Vanilla Ice

JAYSON STARK'S MLB TRIVIA
Miguel Cabrera will start in his ninth MLB All-Star Game on July 15. Only two other active players have participated in more Midsummer Classics than him. Who are these individuals? Listen

BEST OF MIKE & MIKE ON ESPN RADIO: SHOW PREVIEW OCTOBER 15, 2012