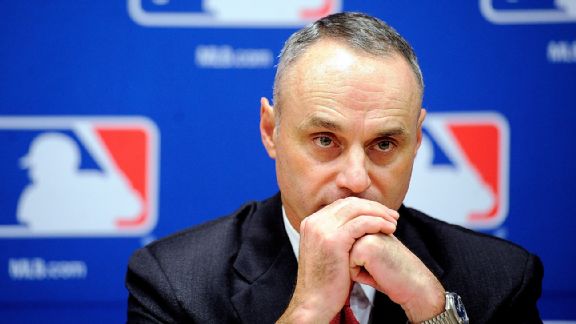 Patrick McDermott/Getty ImagesRob Manfred tells the guys about postponing White Sox-Orioles, Pete Rose's new job and much more.
• MLB commissioner Rob Manfred comments on the decision to postpone White Sox-Orioles due to safety concerns in Baltimore, the possibility of using designated hitters in the National League and Pete Rose's new job. Manfred

Baseball Tonight »
• Rangers GM Jon Daniels dishes on the acquisition of Josh Hamilton from the Angels, what Hamilton can contribute and mending relationships when Hamilton left Texas as a free agent. Daniels

• ESPN MLB Insider Jayson Stark offers his insights on Pete Rose's prospects for reinstatement, the Rangers' acquisition of Josh Hamilton and more. Stark

• MLB Network's Brian Kenny covers the Josh Hamilton trade, the historical significance if Floyd Mayweather defeats Manny Pacquiao and how Mayweather benefits from Kenny Bayless' appointment as a judge. Kenny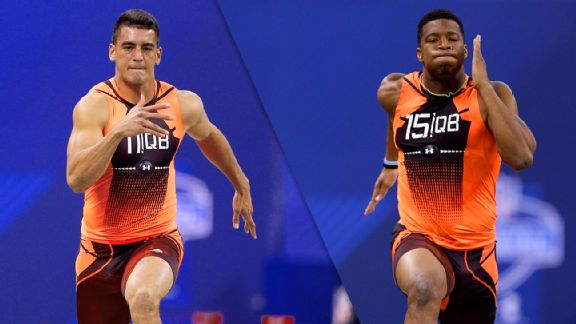 AP PhotoKirk Herbstreit tells the guys about the potential of Marcus Mariota and Jameis Winston and more.
• College GameDay's Kirk Herbstreit discusses the potential of Jameis Winston and Marcus Mariota, Mariota's ability to run a pro-style offense and which prospect is the surest bet to achieve success. Herbstreit

First Draft »
• ESPN NFL Insider Mark Dominik shares insights on the likelihood that either the Buccaneers or the Titans will trade their top picks, the staying power of teams' draft boards and Shane Ray's draft stock. Dominik

Football Today »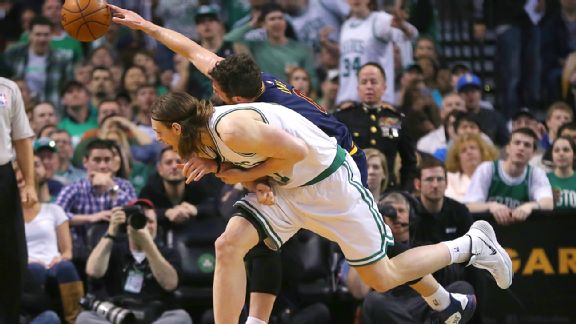 Jim Rogash/Getty ImagesBruce Bowen tells the guys about Kevin Love's injury in Game 4 against the Celtics and much more.
• ESPN NBA analyst Bruce Bowen discusses the latest from the NBA playoffs, including Kevin Love's injury, lapses from Derrick Rose that allowed the Bucks to stave off elimination and increased expectations of Austin Rivers. Bowen

NBA Lockdown »
• ESPN.com's Dave McMenamin provides an update on the status of Kevin Love after a shoulder injury in Game 4 against the Celtics and the potential of a suspension to J.R. Smith. McMenamin

• ESPN boxing analyst Teddy Atlas offers his insights on who has the advantage in the upcoming fight between Manny Pacquiao and Floyd Mayweather, where Mayweather ranks among all-time great boxers and more. Atlas


• ESPN MLB Insider Buster Olney covers Alex Rodriguez's chase of Hank Aaron's home run record, how the Yankees have handled A-Rod, the Josh Hamilton situation and Adam Wainwright's injury. Olney

-Baseball Tonight »
-Fantasy Focus: Baseball »
• Former NFL GM Vinny Cerrato weighs in on the NFL draft, including a potential Adrian Peterson trade, why the Titans should trade the second overall pick and the most pro-ready prospects. Cerrato

-Football Today »
-First Draft »
Insider: Hear the full show
Listen to Mike & Mike -- commercial free, either streaming or as a podcast!
Not an insider? Sign up now »