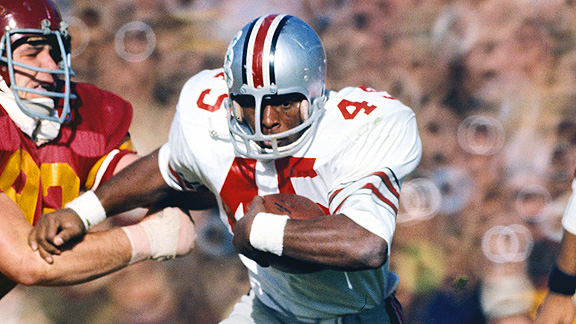 George Long/Getty ImagesTwo-time Heisman Trophy winner Archie Griffin prepares Mike & Mike for Saturday's presentation.
• Arkansas coach Bret Bielema talks about his decision to leave Wisconsin for Arkansas and compares the schools and the conferences. Bielema says the inability to retain assistants was a major issue at Wisconsin. Bielema

• ESPN NFL analyst Ron Jaworski weighs in on the possibility of eliminating kickoffs, Robert Griffin III and praising players. Jaworski

• ESPN NFL analyst Lomas Brown says he doesn't want the NFL to eliminate kickoffs. Brown

• ESPN football guru Mel Kiper Jr. says he would have voted for Manti Te'o if he had a Heisman vote. Kiper says Te'o could be the No. 1 pick in the NFL draft. Kiper Jr.

• ESPN NBA analyst Magic Johnson talks about Kobe Bryant in a historical perspective, Dwight Howard's struggles from the free throw line and says the Knicks are built to beat Miami. Johnson

• Basketball Hall of Famer Kareem Abdul-Jabbar shares his thoughts on Kobe Bryant's place in NBA history after Bryant reached 30,000 points. Abdul-Jabbar

• ESPN New York 98.7 FM's Stephen A. Smith says the Knicks are moving the ball extremely well and creating their own open shots. The basketball world is on notice.
Smith

• Two-time Heisman Trophy winner Archie Griffin says he thinks voters are ready to vote for a defensive player or a freshman. The best player should win regardless. Griffin

• Greeny and Golic make their picks for Week 14 of the NFL season in the "Stone Cold Lead Pipe Locks." Lead Pipe Locks »