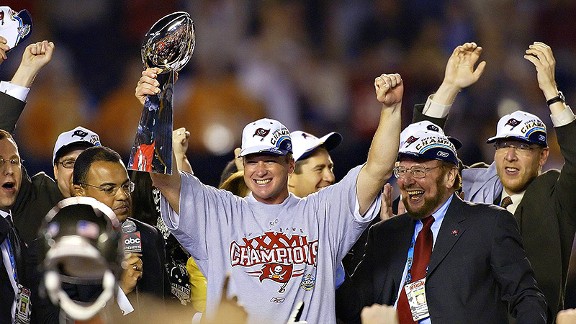 USA TODAY SportsZack Crockett tells the guys about whether he suspected any sabotage in Super Bowl XXXVII.
• ESPN NFL Insider John Clayton covers Tim Brown's allegations of sabotage in Super Bowl XXXVII, Jason Garrett, David Akers, Mark Sanchez's future, the Eagles' QBs and more. Clayton

• ESPN NFL analyst Eric Mangini dishes on Ravens-Patriots, Joe Flacco's performance in the playoffs, how teams handle the time before the Super Bowl, Colin Kaepernick and more. Mangini

• Former Raiders FB Zack Crockett reacts to Tim Brown's allegations of sabotage in Oakland's loss to the Buccaneers in Super Bowl XXXVII. Crockett

• Five-time NBA champion Steve Kerr comments on the Lakers' struggles, Dwight Howard, Pau Gasol, how Derrick Rose's return will impact the Bulls, trash talking and more. Kerr


MLB: Cubs at Dodgers
8:00 p.m. - 12:30 a.m. ET
Listen


Updates |

Deportes

BEST OF MIKE & MIKE PODCAST
JAYSON STARK'S MLB TRIVIA
David Wright is one of four active players who have spent the last 12 seasons with the same team. Who are the other three? Listen

FRANK CALIENDO
Our favorite moments with Frank Caliendo:
-Watch: 'A Visit from St. Nicholas'


-Watch: William Shatner


-Listen: #GolicButtPhoto voicemails


-Watch: Donald Trump


-Listen: Trick-or-Treat


-Watch: Stephen A. Smith


-Watch: Mel Kiper Jr.


-Watch: Charles Barkley


-Watch: Allen Iverson's rant


-Watch: Remembering Robin Williams


-Watch: LeBron James' letter

OFF-MIKES EPISODES
View episodes of ESPN.com's first Emmy winner, "Off-Mikes," a series based on the interactions of Greeny and Golic on "Mike & Mike."
-"Snook, Line and Sinker"


-"Wee-Wee Mon Sewer"


-"Raging Bull-Oney"


-"Bend It Like Golic"


-"The Wettest Yard"


-"Pomp You Up"


-"Throw Momma from the Chair"


-"Air Force Ton"


-"Night of the Living Chippers"

BEST OF MIKE & MIKE ON ESPN RADIO: SHOW IN REVIEW JANUARY 22