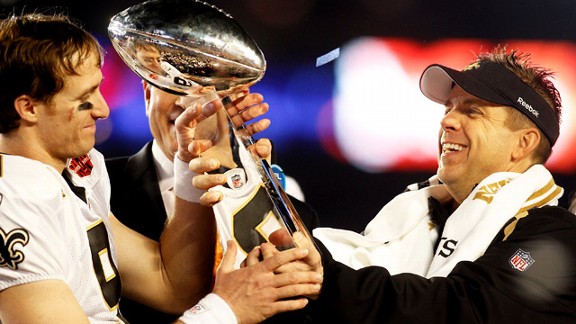 Chris Graythen/Getty ImagesSean Payton tells the guys about being reinstated by the NFL, Bountygate, Rob Ryan and much more.
• Saints coach Sean Payton talks about his season away from the NFL, being reinstated by the league, New Orleans' defense, his relationship with Roger Goodell and more. Payton

• ESPN NFL Insider Adam Schefter shares his thoughts on Joe Flacco's contract status, the futures of Michael Vick and Alex Smith, notable cuts and more. Schefter

• ESPN Radio's Mark Schlereth weighs in on the Ryan Braun story, the Broncos' relationship with BALCO during his playing days and more. Schlereth

• Greeny and Golic react to the report that ties Ryan Braun to the clinic that allegedly provided performance-enhancing drugs to numerous MLB players. Listen

BEST OF MIKE & MIKE PODCAST
JAYSON STARK'S MLB TRIVIA
David Wright is one of four active players who have spent the last 12 seasons with the same team. Who are the other three? Listen

FRANK CALIENDO
Our favorite moments with Frank Caliendo:
-Watch: 'A Visit from St. Nicholas'


-Watch: William Shatner


-Listen: #GolicButtPhoto voicemails


-Watch: Donald Trump


-Listen: Trick-or-Treat


-Watch: Stephen A. Smith


-Watch: Mel Kiper Jr.


-Watch: Charles Barkley


-Watch: Allen Iverson's rant


-Watch: Remembering Robin Williams


-Watch: LeBron James' letter

OFF-MIKES EPISODES
View episodes of ESPN.com's first Emmy winner, "Off-Mikes," a series based on the interactions of Greeny and Golic on "Mike & Mike."
-"Snook, Line and Sinker"


-"Wee-Wee Mon Sewer"


-"Raging Bull-Oney"


-"Bend It Like Golic"


-"The Wettest Yard"


-"Pomp You Up"


-"Throw Momma from the Chair"


-"Air Force Ton"


-"Night of the Living Chippers"

BEST OF MIKE & MIKE ON ESPN RADIO: SHOW IN REVIEW FEBRUARY 6