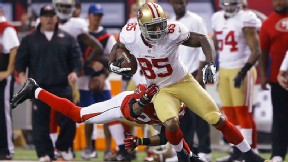 AP Photo/David GoldmanVernon Davis will join Greeny and Mark Schlereth.
Greeny and Mark Schlereth welcome ESPN NFL analyst Herm Edwards (6:30 a.m. ET), ESPN NFL analyst Ron Jaworski (7:30), ESPN NFL Insider Chris Mortensen (8:00), ESPN NBA analyst Bruce Bowen (8:45), Angels manager Mike Scioscia (9:30) and 49ers TE Vernon Davis (9:45) to the show on Thursday.
Get in touch with Mike & Mike by emailing (mikeandmike@espnradio.com), texting (73776) or tweeting (@MikeAndMike) the guys -- we'll be with you from 6-10 a.m. ET. Follow all of the action on ESPN2, ESPN Radio or ESPNRadio.com.

Freddie Coleman Show
10:00 p.m. - 1:00 a.m. ET
Listen


Updates |

Deportes

Espngreeny

Mike Greenberg


Very enjoyable evening with @StacyGSG @CariChampion @jemelehill @michaelsmith. Sleepover at the Greeny's next time. #LikeLasagna
21 minutes ago

espngolic

Mike Golic


"@MGolicJR57: When all else fails, peanut M&M's." Amen to that
about 3 hours ago

ChrisCarlinSNY

Chris Carlin


You 4 games for taking the wrong cold medication, but 2 games for domestic violence. Terrible.
about 3 hours ago

Espngreeny

Mike Greenberg


RT "@ESPNStatsInfo: The @Athletics have scored 13 runs in support of Jeff Samardzija today, as many as @Cubs scored in his final 6 starts."
about 4 hours ago

Espngreeny

Mike Greenberg


This will be great.RT "@FrankCaliendo: "Best (and Worst) of (me)" special airs Friday at 7pm est on ESPN. http://t.co/gDHzzMRXhn"
about 4 hours ago

MikeAndMike

Mike & Mike


Thanks to @Nelly_Mo for joining us in studio this morning! http://t.co/6oeMM0y30d
about 12 hours ago

Espngreeny

Mike Greenberg


Here's Frank Caliendo as Morgan Freeman reading the Lebron letter.http://t.co/g2EaG8ugw2
about 13 hours ago

MikeAndMike

Mike & Mike


ICYMI: Here's @FrankCaliendo reading LeBron's letter as Morgan Freeman!"The LeBron James Redemption"http://t.co/MFebl94EHe
about 13 hours ago

Espngreeny

Mike Greenberg


Do you think Jose Canseco should be sorry he wrote the book that cleaned up baseball? #Juiced #MikeAndMike
about 14 hours ago

Espngreeny

Mike Greenberg


Do you think Jose Canseco should be sorry he wrote the book that cleaned up baseball? #Juiced #MikeAndMike
about 14 hours ago

MikeAndMike

Mike & Mike


Don't miss the many voices of Comedian @FrankCaliendo IN STUDIO with us at 8 am Eastern!
about 15 hours ago

MikeAndMike

Mike & Mike


Back at Fenway for #Liverpool vs #Roma it's been a good two days - Liam #RomavLiverpool @LFC @LFCUSA @LiamsMumESPN http://t.co/v44Cbac2DN
1 day ago

Espngreeny

Mike Greenberg


Anything can happen in the NFL. But, I would be more surprised if the #Jets went 6-10 than if they went 10-6.
1 day ago

MikeAndMike

Mike & Mike


Luciano Pavarotti or @BubbaTheGlue?? http://t.co/LO3B5ogGOo
1 day ago

MikeAndMike

Mike & Mike


Golic looks really into his conversation with Charlie Strong! http://t.co/zVZo4tyHM9
1 day ago

MikeAndMike

Mike & Mike


"If you were to eliminate quarterbacks and do an MVP vote for everybody else in the NFL, I would vote @RobGronkowski" - @Espngreeny
1 day ago

Espngreeny

Mike Greenberg


If sale falls through, owners have to vote Donald out. Moment they do, he pulls out the big guns. This could get much, much worse. #Clippers
1 day ago

Espngreeny

Mike Greenberg


If Steve Ballmer decides he doesn't need the aggravation, this could get really, really ugly. Fast. #Clippers @ramonashelburne
1 day ago

MikeAndMike

Mike & Mike


Coming up at 9:45a ET NASCAR star @keselowski will join us in studio. Got a question for him? Maybe we'll ask him on air. Use #AskBrad
1 day ago

MikeAndMike

Mike & Mike


Do colleges have a moral obligation to treat non-revenue athletes the same as they do football and basketball players? #CollegeMorals
1 day ago
NCAA TOURNAMENT BET PAYOFFS
Mike Greenberg completes the latest installment of the guys' bracket wager payoff. Photos


Watch: Greeny Milks a Cow


Watch: Greeny Gets Waxed


Watch: Greeny Competitively Eats


Watch: Greeny Sings Vanilla Ice

JAYSON STARK'S MLB TRIVIA
Cy Young teammates Greg Maddux and Tom Glavine will enter the Baseball Hall of Fame together. Three pairs of current teammates have won MVP awards. Who are the players? Listen

BEST OF MIKE & MIKE ON ESPN RADIO: SHOW PREVIEW FEBRUARY 28, 2012