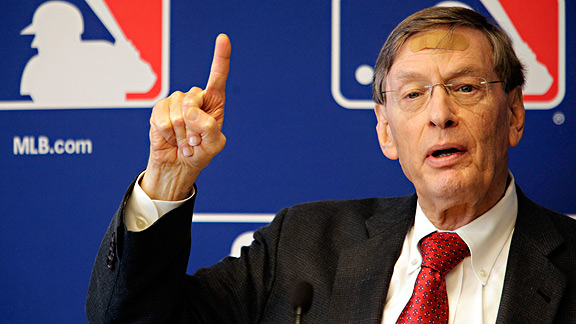 AP Photo/Mary AltafferBud Selig tells the guys about the state of MLB, testing for performance-enhancing drugs and more.
• MLB commissioner Bud Selig dishes on the start of a new season, the Astros' payroll, the Blue Jays-Marlins trade, the testing for performance-enhancing drugs and more. Selig

• Angels OF Josh Hamilton discusses joining a new team, the time that he has spent around Mike Trout, getting ready to return to Cincinnati and Texas and more. Hamilton

• MLB EVP of Baseball Operations Joe Torre talks about competitive balance, the strength of the AL and NL West, head injuries, the designated hitter rule and more. Torre

• Six-time World Series champion Willie Randolph weighs in on what Opening Day means to him, the Yankees' injuries, parity in MLB, Mike Trout, Stephen Strasburg and more. Randolph

• Greeny and Golic make their predictions for the 2013 MLB season. Listen

BEST OF MIKE & MIKE PODCAST
JAYSON STARK'S MLB TRIVIA
Adrian Gonzalez has hit at least 20 home runs in eight of the last nine seasons. Three other active players have achieved 20 home runs in each of the last nine seasons. Who are they? Listen

FRANK CALIENDO
Our favorite moments with Frank Caliendo:
-Watch: 'A Visit from St. Nicholas'


-Watch: William Shatner


-Listen: #GolicButtPhoto voicemails


-Watch: Donald Trump


-Listen: Trick-or-Treat


-Watch: Stephen A. Smith


-Watch: Mel Kiper Jr.


-Watch: Charles Barkley


-Watch: Allen Iverson's rant


-Watch: Remembering Robin Williams


-Watch: LeBron James' letter

OFF-MIKES EPISODES
View episodes of ESPN.com's first Emmy winner, "Off-Mikes," a series based on the interactions of Greeny and Golic on "Mike & Mike."
-"Snook, Line and Sinker"


-"Wee-Wee Mon Sewer"


-"Raging Bull-Oney"


-"Bend It Like Golic"


-"The Wettest Yard"


-"Pomp You Up"


-"Throw Momma from the Chair"


-"Air Force Ton"


-"Night of the Living Chippers"

BEST OF MIKE & MIKE ON ESPN RADIO: DIAMONDS ARE FOREVER APRIL 1