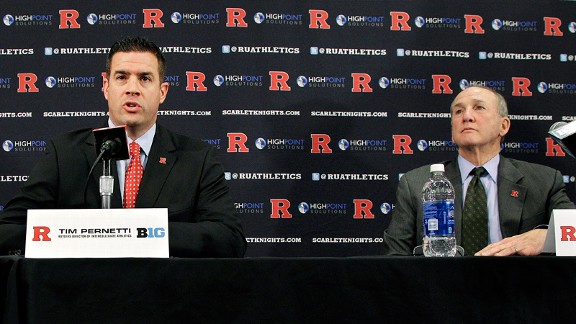 AP Photo/Mel EvansThe guys give their takes on the ouster of Rutgers athletic director Tim Pernetti and much more.
• Northwestern coach Chris Collins discusses the gruesome injury that Kevin Ware suffered against Duke, his expectations for the Wildcats and more. Collins

• ESPN CBB analyst Digger Phelps dishes on Rutgers' dismissal of Mike Rice, Rice's future, Syracuse-Michigan, the Orange's zone defense, Wichita State-Louisville and more. Phelps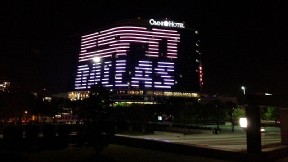 Kelly Carey/ESPN RadioSpecial thanks to Dallas for hosting Mike & Mike.
• ESPN CBB analyst Jalen Rose weighs in on the 20th anniversary of the NCAA title game between Michigan and North Carolina, the matchups in the Final Four and more. Rose

• ESPN CBB analyst Bruce Pearl comments on Ed Rush's resignation as the Pac-12's coordinator of officiating, Rutgers' firing of Mike Rice, the Final Four and more. Pearl

• Greeny and Golic react to Brett McMurphy's report that Tim Pernetti is out as Rutgers' athletic director following the firing of Mike Rice. Listen

BEST OF MIKE & MIKE PODCAST
JAYSON STARK'S MLB TRIVIA
Albert Pujols has now achieved 500 home runs and 100 steals. Who are the other two active players with 400 homers and 100 steals? Listen

FRANK CALIENDO
Our favorite moments with Frank Caliendo:
-Watch: 'A Visit from St. Nicholas'


-Watch: William Shatner


-Listen: #GolicButtPhoto voicemails


-Watch: Donald Trump


-Listen: Trick-or-Treat


-Watch: Stephen A. Smith


-Watch: Mel Kiper Jr.


-Watch: Charles Barkley


-Watch: Allen Iverson's rant


-Watch: Remembering Robin Williams


-Watch: LeBron James' letter

OFF-MIKES EPISODES
View episodes of ESPN.com's first Emmy winner, "Off-Mikes," a series based on the interactions of Greeny and Golic on "Mike & Mike."
-"Snook, Line and Sinker"


-"Wee-Wee Mon Sewer"


-"Raging Bull-Oney"


-"Bend It Like Golic"


-"The Wettest Yard"


-"Pomp You Up"


-"Throw Momma from the Chair"


-"Air Force Ton"


-"Night of the Living Chippers"

BEST OF MIKE & MIKE ON ESPN RADIO: FANTASTIC FOUR? APRIL 5