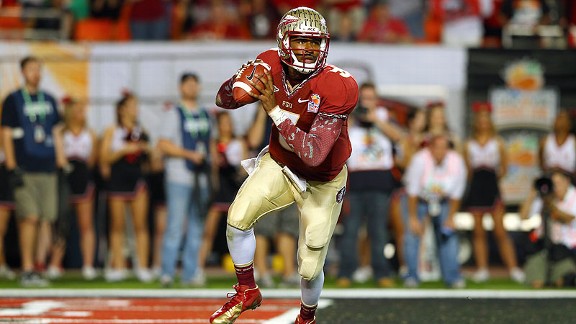 Mike Ehrmann/Getty ImagesEJ Manuel tells the guys about his expectations for the NFL draft, the success of mobile QBs and more.
• Florida State QB EJ Manuel discusses preparing for the NFL draft, the recent success of mobile QBs, dealing with criticism, his expectations and more. Manuel

• ESPN NFL draft Insiders Mel Kiper Jr. and Todd McShay talk about the QB class, the depth of the draft, Marcus Lattimore, Manti Te'o, the Darrelle Revis trade and more.
Kiper Jr. and McShay

• ESPN NFL Insider John Clayton comments on potential trades involving Branden Albert, Chris Ivory and LeGarrette Blount, the QB class in the draft and more. Clayton

BEST OF MIKE & MIKE PODCAST
JAYSON STARK'S MLB TRIVIA
Adrian Gonzalez has hit at least 20 home runs in eight of the last nine seasons. Three other active players have achieved 20 home runs in each of the last nine seasons. Who are they? Listen

FRANK CALIENDO
Our favorite moments with Frank Caliendo:
-Watch: 'A Visit from St. Nicholas'


-Watch: William Shatner


-Listen: #GolicButtPhoto voicemails


-Watch: Donald Trump


-Listen: Trick-or-Treat


-Watch: Stephen A. Smith


-Watch: Mel Kiper Jr.


-Watch: Charles Barkley


-Watch: Allen Iverson's rant


-Watch: Remembering Robin Williams


-Watch: LeBron James' letter

OFF-MIKES EPISODES
View episodes of ESPN.com's first Emmy winner, "Off-Mikes," a series based on the interactions of Greeny and Golic on "Mike & Mike."
-"Snook, Line and Sinker"


-"Wee-Wee Mon Sewer"


-"Raging Bull-Oney"


-"Bend It Like Golic"


-"The Wettest Yard"


-"Pomp You Up"


-"Throw Momma from the Chair"


-"Air Force Ton"


-"Night of the Living Chippers"

BEST OF MIKE & MIKE ON ESPN RADIO: THE FUTURE IS NOW APRIL 23