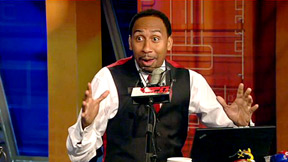 ESPNThe guys will be joined by Stephen A. Smith.
Greeny and Golic welcome ESPN New York 98.7 FM's Stephen A. Smith (7:00 a.m. ET), Celtics analyst Cedric Maxwell (7:30), ESPN NFL draft Insider Todd McShay (8:30), NBA TV's Greg Anthony (8:45) and the NFL Network's Charley Casserly (9:30) to the show on Wednesday.
Get in touch with Mike & Mike by emailing (mikeandmike@espnradio.com), texting (73776) or tweeting (@MikeAndMike) the guys -- we'll be with you from 6-10 a.m. ET. Follow all of the action on ESPN2, ESPN Radio or ESPNRadio.com.

SportsCenter AllNight
12:00 a.m. - 6:00 a.m. ET
Listen


Updates |

Deportes

espngolic

Mike Golic


"@carthagecollier: @espngolic What's a typical practice squad player earn?" I believe 6k a week for the season
about 10 hours ago

espngolic

Mike Golic


"@Jasoncrandall: @espngolic why do you keep emphasizing $20k signing bonus? What is normal for undrafted free agents?" Area of 5k
about 12 hours ago

StacyGSG

StacyGSGreenberg


Family fantasy draft. I've got Adrian Peterson. Stevie has Peyton, Nikki has Brees. Greeny took Mark Sanchez. I'm not kidding.
about 13 hours ago

MikeAndMike

Mike & Mike


#StarkTrivia Adam Dunn has hit 40+ HRs 6 times. Which 2 other active players have at least four 40+ HR seasons? Answer coming up!
about 19 hours ago

Espngreeny

Mike Greenberg


I like the #Broncos to win a stacked AFC West at 11-5.
about 19 hours ago

MikeAndMike

Mike & Mike


AFC West - DEN: Greeny (11), Golic (12) -KC: Greeny (9), Golic (9) -OAK: Greeny (4), Golic (4) -SD: Greeny (9), Golic (8)
about 19 hours ago

Espngreeny

Mike Greenberg


I have the #Patriots winning the AFC East easily again at 12-4.
about 20 hours ago

MikeAndMike

Mike & Mike


AFC East - BUF: Greeny (5), Golic (4) - MIA: Greeny (6), Golic (5) - NE: Greeny (12), Golic (11) - NYJ: Greeny (9), Golic (8)
about 20 hours ago

MikeAndMike

Mike & Mike


AFC North - BAL: Greeny (6), Golic (7) - CIN: Greeny (10), Golic (11) - CLE: Greeny (7), Golic (5) - PIT: Greeny (7), Golic (9)
about 21 hours ago

Espngreeny

Mike Greenberg


I have the #Bengals repeating as champs of a very mediocre AFC North at 10-6.
about 21 hours ago

Espngreeny

Mike Greenberg


I have the #Colts running away with the AFC South at 12-4.
about 21 hours ago

MikeAndMike

Mike & Mike


Wed @ 7:10 ET starts our weekly spot w/ Jon Gruden, that means the return of #GrudensGroove! What classic rock song should we play for him?
about 21 hours ago

MikeAndMike

Mike & Mike


AFC South - IND: Greeny (12), Golic (12) - TEN: Greeny (6), Golic (6) - HOU: Greeny (5), Golic (8) - JAX: Greeny (5), Golic (4)
about 22 hours ago

MikeAndMike

Mike & Mike


All morning @Espngreeny and @espngolic will be giving their AFC win total predictions!
about 22 hours ago

Cleo_FrankJR

Cleo Franklin


@espngolic @SydGolic Mahindra Tractors don't just run, they push, pull & lift more! Go #Mahindra Red @Mahindra_USA & ready to go do work!
1 day ago

boccountry

Brian O'Connell


A thrill of a lifetime, thanks @lukebryanonline for sharing your talents with my beloved hometown of… http://t.co/NS19B2DyjR
1 day ago

espngolic

Mike Golic


.@jlbarnhart @AndyKrek most vacation per our bosses is taken in June, July, and August, so it seems like more than it is, back tomorrow
1 day ago

espngolic

Mike Golic


.@rlavere03 @MikeAndMike @Espngreeny not sure of guest list, we are looking forward to being there.
1 day ago
NCAA TOURNAMENT BET PAYOFFS
Mike Greenberg completes the latest installment of the guys' bracket wager payoff. Photos


Watch: Greeny Milks a Cow


Watch: Greeny Gets Waxed


Watch: Greeny Competitively Eats


Watch: Greeny Sings Vanilla Ice

JAYSON STARK'S MLB TRIVIA
Adam Dunn is one of three players in MLB who have achieved four or more seasons with 40 home runs. Who are the other two? Listen

BEST OF MIKE & MIKE ON ESPN RADIO: SHOW PREVIEW APRIL 24, 2013