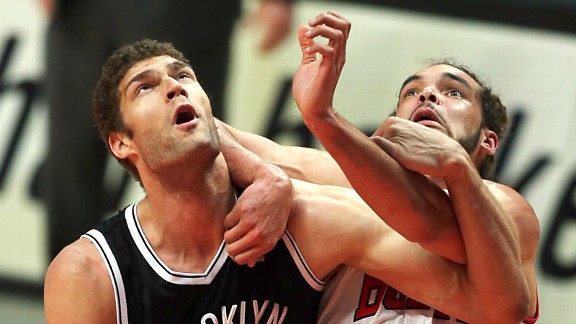 Scott Strazzante/Chicago Tribune/Getty ImagesThe guys give their takes on Nets-Bulls, Nuggets-Warriors and much more from the NBA playoffs.
• ESPN NBA analyst Tim Legler covers Nets-Bulls, Nuggets-Warriors, Stephen Curry, Knicks-Celtics, Pacers-Hawks, Paul George, Thunder-Rockets, Clippers-Grizzlies and more. Legler

• The Boston Globe's Bob Ryan dishes on the Nets' win over the Bulls in Game 6, Knicks-Celtics, Jason Terry, Carmelo Anthony, Kevin Garnett's future and more. Ryan

• Basketball Hall of Famer Earl Monroe weighs in on the Bulls' injuries and illnesses, Knicks-Celtics, Carmelo Anthony's style of play and more. Monroe

• Bulls analyst Bill Wennington discusses Chicago's loss to the Nets in Game 6, Kirk Hinrich's status, his expectations for Game 7, Tom Thibodeau and more. Wennington

• Greeny and Golic share their thoughts on the Nets' win over the Bulls to force a Game 7, the Warriors' elimination of the Nuggets, Knicks-Celtics and more. Listen

STONE COLD LEAD PIPE LOCKS
NCAA TOURNAMENT BET PAYOFFS
Mike Greenberg completes the latest installment of the guys' bracket wager payoff. Photos


Watch: Greeny Milks a Cow


Watch: Greeny Gets Waxed


Watch: Greeny Competitively Eats


Watch: Greeny Sings Vanilla Ice

JAYSON STARK'S MLB TRIVIA
This season, Clayton Kershaw has struck out more than 200 hitters for the fifth time in his career. Only two other active pitchers have achieved at least five seasons with 200 strikeouts. Who are these players? Listen

BEST OF MIKE & MIKE ON ESPN RADIO: SEVENTH HEAVEN?