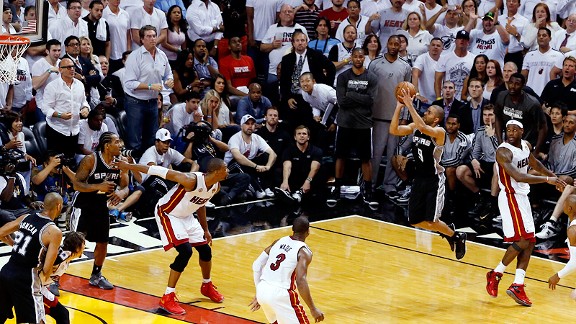 Derick E. Hingle/USA TODAY SportsGolic and Ryan Ruocco give their takes on Spurs-Heat, Tony Parker, LeBron James and much more.
• ESPN.com's Brian Windhorst weighs in on Game 1 of the NBA Finals, LeBron James' performance, the adjustments that the Heat should make before Game 2 and more. Windhorst

• ESPN Radio's Colin Cowherd covers the Spurs' win over the Heat in Game 1 of the NBA Finals, the comments that LeBron James and Dwyane Wade made about feeling fatigued and more. Cowherd

• 1250 ESPN San Antonio's Jason Minnix discusses the Spurs' win over the Heat in Game 1 of the NBA Finals, Kawhi Leonard's defense against LeBron James and more. Minnix

• Golic and Ryan share their thoughts on the Spurs' win over the Heat in Game 1 of the NBA Finals, Tony Parker, Tim Duncan, LeBron James, Dwyane Wade and more. Listen

BEST OF MIKE & MIKE PODCAST
JAYSON STARK'S MLB TRIVIA
Adrian Gonzalez has hit at least 20 home runs in eight of the last nine seasons. Three other active players have achieved 20 home runs in each of the last nine seasons. Who are they? Listen

FRANK CALIENDO
Our favorite moments with Frank Caliendo:
-Watch: 'A Visit from St. Nicholas'


-Watch: William Shatner


-Listen: #GolicButtPhoto voicemails


-Watch: Donald Trump


-Listen: Trick-or-Treat


-Watch: Stephen A. Smith


-Watch: Mel Kiper Jr.


-Watch: Charles Barkley


-Watch: Allen Iverson's rant


-Watch: Remembering Robin Williams


-Watch: LeBron James' letter

OFF-MIKES EPISODES
View episodes of ESPN.com's first Emmy winner, "Off-Mikes," a series based on the interactions of Greeny and Golic on "Mike & Mike."
-"Snook, Line and Sinker"


-"Wee-Wee Mon Sewer"


-"Raging Bull-Oney"


-"Bend It Like Golic"


-"The Wettest Yard"


-"Pomp You Up"


-"Throw Momma from the Chair"


-"Air Force Ton"


-"Night of the Living Chippers"

BEST OF MIKE & MIKE ON ESPN RADIO: FRENCH OPEN