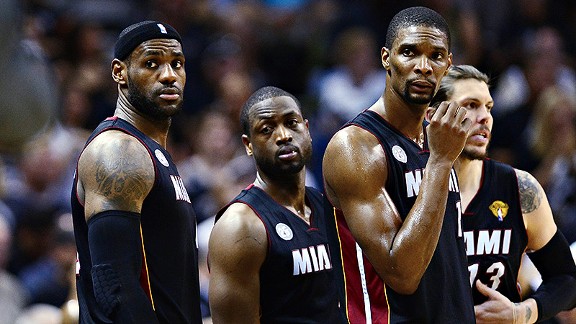 Frederic J. Brown/AFP/Getty ImagesMarc Stein tells the guys about the NBA Finals, the potential Clippers-Celtics trade and much more.
• ESPN.com NBA Insider Marc Stein discusses the trade rumors between the Clippers and the Celtics, the futures of Doc Rivers, Kevin Garnett and Paul Pierce, Spurs-Heat and more. Stein

• SI's Chris Mannix shares his thoughts on the changes that the Heat could make after the season, LeBron James, Chris Bosh, Dwyane Wade, Dwight Howard and more. Mannix


Freddie Coleman Show
10:00 p.m. - 1:00 a.m. ET
Listen


Updates |

Deportes

NCAA TOURNAMENT BET PAYOFFS
Mike Greenberg completes the latest installment of the guys' bracket wager payoff. Photos


Watch: Greeny Milks a Cow


Watch: Greeny Gets Waxed


Watch: Greeny Competitively Eats


Watch: Greeny Sings Vanilla Ice

JAYSON STARK'S MLB TRIVIA
Cy Young teammates Greg Maddux and Tom Glavine will enter the Baseball Hall of Fame together. Three pairs of current teammates have won MVP awards. Who are the players? Listen

BEST OF MIKE & MIKE ON ESPN RADIO: TROUBLE IN PARADISE?