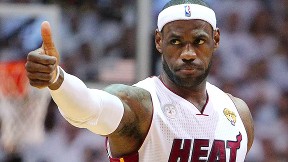 David Santiago/El Nuevo Herald/MCTThe guys will recap Game 7 of the NBA Finals.
Greeny and Golic welcome ESPN NBA analyst Tim Legler (6:30 a.m. ET), ESPN NBA analyst Jon Barry (7:00), ESPN New York 98.7 FM's Stephen A. Smith (7:15), ESPN.com's Brian Windhorst (8:15), ESPN NBA analyst Jalen Rose (9:00) and ESPN's Dan Le Batard (9:15) to the show on Friday.
Get in touch with Mike & Mike by emailing (mikeandmike@espnradio.com), texting (73776) or tweeting (@MikeAndMike) the guys -- we'll be with you from 6-10 a.m. ET. Follow all of the action on ESPN2, ESPN Radio or ESPNRadio.com.

SportsCenter AllNight
12:00 a.m. - 6:00 a.m. ET
Listen


Updates |

Deportes

espngolic

Mike Golic


"@ConradMorgan23: @espngolic @richdvm1 What's Jakes number?" 10
about 6 hours ago

espngolic

Mike Golic


"@richdvm1: @espngolic bummer, that was going towards Jake." Yes it was.... Oh well that's football
about 6 hours ago

MikeAndMike

Mike & Mike


.@FrankCaliendo channels Charles Barkley as he makes picks for Week 3 in the NFL: http://t.co/Hsz8NkLfGQ http://t.co/sCYVIF1vVD
about 13 hours ago

espngolic

Mike Golic


"@SydGolic: @JGolic88 I didn't mean to leave me alone" does it mean you are buying 2 pair of shoes
about 14 hours ago

Espngreeny

Mike Greenberg


Autocorrect is a menace.RT "@JayeUrgo: @Espngreeny "it's," not, "it's." But I agree."
about 14 hours ago

Espngreeny

Mike Greenberg


No argument here.RT "@mfwurst: @StacyGSG Greeny, looking at those two lovely ladies, it's clear you definitely out kicked your coverage."
about 14 hours ago

Espngreeny

Mike Greenberg


He'd be like a son to me, six days a week.RT "@superacct2004: what if many years from now your daughter married a Patriot fan?"
about 15 hours ago

Espngreeny

Mike Greenberg


Meanwhile, the women in my home are wearing enemy colors. We are a house divided. @StacyGSG @ChicagoBears @nyjets http://t.co/cf5DzZxuvQ
about 15 hours ago

Espngreeny

Mike Greenberg


It isn't the NFL's job to solve the problem of domestic violence. But it's fans and customers deserve the whole truth.
about 15 hours ago

Espngreeny

Mike Greenberg


If #Ravens front office knew what it seems they did, and still tweeted prominently about Janay regretting her role, that's beyond shameful.
about 15 hours ago

Espngreeny

Mike Greenberg


As to the incredible reporting of @DVNJr and his team, if all true the #Ravens organization is a disgrace, starting at the very, very top.
about 15 hours ago

Espngreeny

Mike Greenberg


I thought Roger Goodell's comments yesterday lacked transparency, as well as specificity. Another hugely disappointing day for the NFL.
about 15 hours ago

SageRosenfels18

Sage Rosenfels


Brady Quinn writes an important piece to NFL players. It's time to be accountable. @3rd_Goal http://t.co/FvbHPZv9o4
about 15 hours ago

jvs3

Jen Vining-Smith


Hey @GunnerKiel be a doll and throw @JGolic88 the ball today huh? Remember when you used to listen to me? Don't stop now :-) Good luck today
about 15 hours ago

FXFL

FXFL


#FXFL Goes to Camp http://t.co/bewIXMjJsB http://t.co/7azHf5QygY
about 15 hours ago

JGolic88

Jake Golic


@MGolicJR57 I WANNA BEAT HIM DAD
about 17 hours ago

MGolicJR57

Mike Golic Jr


Knowing I missed the chance to tell Lou Ferrigno how much I loved Pumping Iron will surely haunt me for the rest of my days.
about 17 hours ago

espngolic

Mike Golic


"@brizzybear183: @espngolic @NDmom lol dad joke" sooo true
about 17 hours ago

espngolic

Mike Golic


"@deltadawgg: @espngolic @NDmom how fast after seeing him did u think that you had to tweet that line? LOL" immediately
about 17 hours ago

espngolic

Mike Golic


At breakfast with @NDmom in Cinn. In room is Lou Ferrigno....gonna try not to make him angry...you won't like him when he's angry
about 17 hours ago
NCAA TOURNAMENT BET PAYOFFS
Mike Greenberg completes the latest installment of the guys' bracket wager payoff. Photos


Watch: Greeny Milks a Cow


Watch: Greeny Gets Waxed


Watch: Greeny Competitively Eats


Watch: Greeny Sings Vanilla Ice

JAYSON STARK'S MLB TRIVIA
This season, Clayton Kershaw has struck out more than 200 hitters for the fifth time in his career. Only two other active pitchers have achieved at least five seasons with 200 strikeouts. Who are these players? Listen

BEST OF MIKE & MIKE ON ESPN RADIO: SHOW PREVIEW JUNE 21, 2013