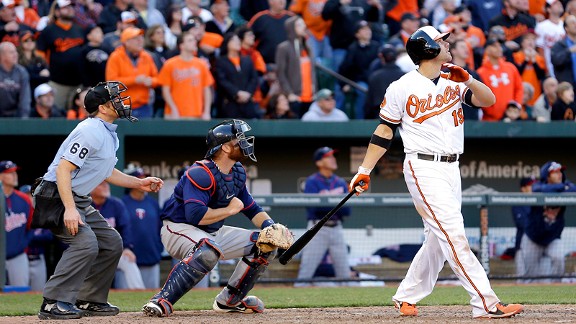 Rob Carr/Getty ImagesBuster Olney tells the guys about the first half of the MLB season, the Biogenesis case and more.
• Pirates OF Andrew McCutchen discusses Pittsburgh's surprising first half, the importance of winning the All-Star Game, the usage of performance-enhancing drugs in MLB and more. McCutchen

• ESPN MLB Insider Buster Olney dishes on the Biogenesis case, whether Alex Rodriguez will play for the Yankees again, the teams that are interested in acquiring Matt Garza, the top players of the first half and more. Olney

• ESPN MLB Insider Tim Kurkjian talks about the potential suspensions of players connected to the Biogenesis clinic, his expectations for Alex Rodriguez, the emergence of Chris Davis and more. Kurkjian

• ESPN MLB Insider Jayson Stark shares his thoughts on the timetable for the possible Biogenesis suspensions, the teams to watch in the second half of the season, Miguel Cabrera's dominance and more. Stark

• Three-time World Series champion Al Leiter weighs in on Miguel Cabrera's success, Yasiel Puig's potential, the Home Run Derby, the usage of performance-enhancing drugs in MLB and more. Leiter


The Russillo Show
1:00 p.m. - 4:00 p.m. ET
Listen


Updates |

Deportes

BEST OF MIKE & MIKE PODCAST
JAYSON STARK'S MLB TRIVIA
Albert Pujols has now achieved 500 home runs and 100 steals. Who are the other two active players with 400 homers and 100 steals? Listen

FRANK CALIENDO
Our favorite moments with Frank Caliendo:
-Watch: 'A Visit from St. Nicholas'


-Watch: William Shatner


-Listen: #GolicButtPhoto voicemails


-Watch: Donald Trump


-Listen: Trick-or-Treat


-Watch: Stephen A. Smith


-Watch: Mel Kiper Jr.


-Watch: Charles Barkley


-Watch: Allen Iverson's rant


-Watch: Remembering Robin Williams


-Watch: LeBron James' letter

OFF-MIKES EPISODES
View episodes of ESPN.com's first Emmy winner, "Off-Mikes," a series based on the interactions of Greeny and Golic on "Mike & Mike."
-"Snook, Line and Sinker"


-"Wee-Wee Mon Sewer"


-"Raging Bull-Oney"


-"Bend It Like Golic"


-"The Wettest Yard"


-"Pomp You Up"


-"Throw Momma from the Chair"


-"Air Force Ton"


-"Night of the Living Chippers"

BEST OF MIKE & MIKE ON ESPN RADIO: WE'RE HALFWAY THERE