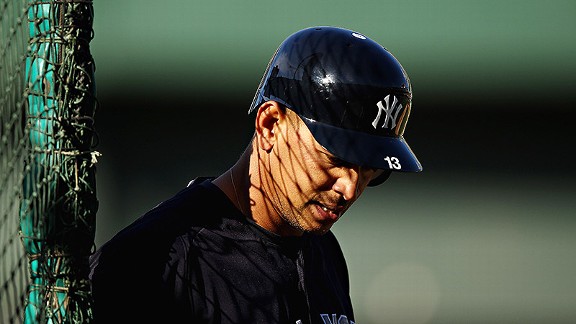 Ezra Shaw/Getty ImagesDon Hooton tells the guys about Alex Rodriguez, the Biogenesis investigation and much more.
• Taylor Hooton Foundation president Don Hooton discusses the Biogenesis investigation, his relationship with Alex Rodriguez, the usage of performance-enhancing drugs in MLB and more. Hooton

• ESPN MLB Insider Buster Olney explains why he thinks that Bud Selig should stay within the Joint Drug Agreement to suspend Alex Rodriguez and other players connected to the Biogenesis investigation. Olney

• ESPN Radio's Colin Cowherd covers the Biogenesis investigation, MLB's potential suspension of Alex Rodriguez, the Jets' QB situation, Riley Cooper's apology for using a racial slur and more. Cowherd

JordanBernfield

Jordan Bernfield


#Northwestern fans: the subject of my pregame feature tomorrow is QB Trevor Siemian. Listen in on @gamechicago starting at 2PM!
about 11 hours ago

MGolicJR57

Mike Golic Jr


Anddddd part 2! Breaking down the new look defense with @iRJerrell99! http://t.co/ooBIK45Wf6 @GolicNewmanPod
about 17 hours ago

MGolicJR57

Mike Golic Jr


Check out part 1 of the epic 2 part season/Rice preview podcast from @GolicNewmanPod! A look at the Irish O in 2014! http://t.co/LukHQkXWJa
about 18 hours ago

espngolic

Mike Golic


.@5capmaga enjoy the holiday weekend, we will be back together Tuesday as September and the NFL regular season get ready to kick off
about 23 hours ago

dariusrucker

Darius Rucker


I want to hear what y'all think about my new song #HomegrownHoney!! If ya haven't heard it yet, give it a listen: http://t.co/5TwoCCdBDF
1 day ago

MikeAndMike

Mike & Mike


Coming this hour, more talk on the NFL's new domestic violence policy, Giants QB Eli Manning, and Eagles RB LeSean McCoy.
1 day ago

MikeAndMike

Mike & Mike


ESPN Senior Fantasy Analyst Matthew Berry joining us next! Tweet us your fantasy questions!
1 day ago

MikeAndMike

Mike & Mike


How long would you stick with RGIII before you bench him for Kirk Cousins?
1 day ago

MikeAndMike

Mike & Mike


Coming up this hour, Jorge, Mike, and Jemele discuss RGIII, the Cowboys and Matthew Berry and Dale Jarrett will be joining us!
1 day ago

Cthomas25

Big C


@MikeAndMike I think he is reacting to the media noise. But sometimes it takes criticism to realize you made a mistake. #justgetitright
1 day ago

TakeMeBackTo98

JD


@MikeAndMike Hes doing what needs to be done as a business man. In that sense, hes a good leader regardless of when, where and why he did it
1 day ago

MikeAndMike

Mike & Mike


Is Roger Goodell being a leader in the new domestic violence policy or just reacting to the media noise?
1 day ago

espngolic

Mike Golic


"@winegar_ronald: @MikeWellsNFL Their own fault .. They could've brought @espngolic son in for a look" couldn't agree more
1 day ago

Espngreeny

Mike Greenberg


Playing in the NFL is no more a privilege than any other good job. In fact, even less so. You're either good enough or you're not.
2 days ago

mes1up

mark


@MikeAndMike Josh Gordon knew the rules!!! He broke the rules & must pay for breaking rules!!!
2 days ago

MikeAndMike

Mike & Mike


Coming up this hour, Talking about the Joshes: Shaw and Gordon with Browns reporter Pat McManamon and @ESPN_ReceDavis
2 days ago

sixer0606

matthew maybury


@Espngreeny what about George faking his import export business.. Vandalay industries.. "SAY VANDALAY !!With his pants around his ankles ha!
2 days ago

johnpslavin

John Slavin


@Espngreeny you have to talk about George pretending to be a marine biologist. :-)
2 days ago

SC_Fusion

Denmark-Olar Vikings


@Espngreeny I know the "human fund" episode and your right, it's about the same
2 days ago

KeepInFit76

Christopher Reuter


@Espngreeny what about when Constanza faked being handicapped
2 days ago
NCAA TOURNAMENT BET PAYOFFS
Mike Greenberg completes the latest installment of the guys' bracket wager payoff. Photos


Watch: Greeny Milks a Cow


Watch: Greeny Gets Waxed


Watch: Greeny Competitively Eats


Watch: Greeny Sings Vanilla Ice

JAYSON STARK'S MLB TRIVIA
Derek Jeter is the active leader in postseason game appearances with 158. Only two other active players have appeared in at least 80 postseason matchups. Who are they? Listen

BEST OF MIKE & MIKE ON ESPN RADIO: LIFE OF ILLUSION?