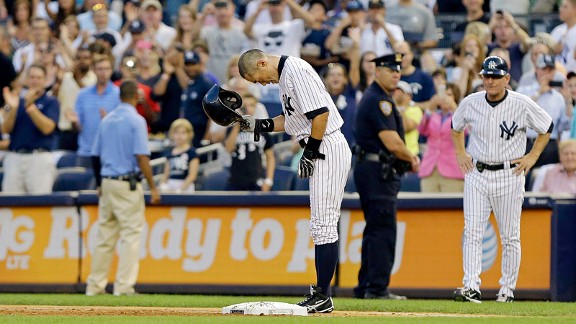 AP Photo/Frank Franklin IITim Kurkjian tells Golic and Jonathan Coachman about Ichiro Suzuki's 4,000th hit and much more.
• ESPN MLB Insider Tim Kurkjian talks about Ichiro Suzuki's 4,000th hit in professional baseball, whether the Yankees can reach the playoffs and more. Kurkjian

• ESPN MLB analyst Orel Hershiser weighs in on Ichiro Suzuki's 4,000th hit in professional baseball, the criticism of Yasiel Puig, Ryan Dempster's suspension for hitting Alex Rodriguez and more. Hershiser


Ian Fitzsimmons & Trevor Matich
10:00 a.m. - 1:00 p.m. ET
Listen


Updates |

Deportes

BEST OF MIKE & MIKE PODCAST
JAYSON STARK'S MLB TRIVIA
David Wright is one of four active players who have spent the last 12 seasons with the same team. Who are the other three? Listen

FRANK CALIENDO
Our favorite moments with Frank Caliendo:
-Watch: 'A Visit from St. Nicholas'


-Watch: William Shatner


-Listen: #GolicButtPhoto voicemails


-Watch: Donald Trump


-Listen: Trick-or-Treat


-Watch: Stephen A. Smith


-Watch: Mel Kiper Jr.


-Watch: Charles Barkley


-Watch: Allen Iverson's rant


-Watch: Remembering Robin Williams


-Watch: LeBron James' letter

OFF-MIKES EPISODES
View episodes of ESPN.com's first Emmy winner, "Off-Mikes," a series based on the interactions of Greeny and Golic on "Mike & Mike."
-"Snook, Line and Sinker"


-"Wee-Wee Mon Sewer"


-"Raging Bull-Oney"


-"Bend It Like Golic"


-"The Wettest Yard"


-"Pomp You Up"


-"Throw Momma from the Chair"


-"Air Force Ton"


-"Night of the Living Chippers"

BEST OF MIKE & MIKE ON ESPN RADIO: INTERNATIONAL SUPERHITS