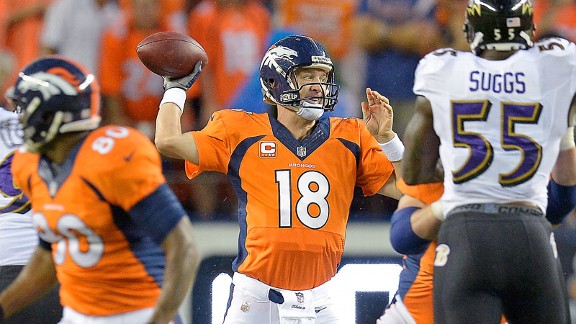 John Leyba/The Denver PostThe guys give their takes on Ravens-Broncos, Peyton Manning's record-tying performance and more.
• Jets coach Rex Ryan comments on his expectations for Geno Smith, the statuses of Mark Sanchez and Santonio Holmes, preparing to face Darrelle Revis and more. Ryan

• Jets GM John Idzik talks about his team's QB situation, whether Mark Sanchez could overtake Geno Smith when he recovers from his shoulder injury, Santonio Holmes's health, the criticism of Rex Ryan and more. Idzik

• ESPN NFL analyst Ron Jaworski discusses Peyton Manning's arm strength, the state of the Ravens' offense, Geno Smith, EJ Manuel, the treatment of mobile QBs and more. Jaworski

• ESPN football guru Mel Kiper Jr. covers Geno Smith, EJ Manuel, the criticism of Jadeveon Clowney, Jameis Winston's impressive debut, Notre Dame-Michigan and more. Kiper Jr.

• ESPN's Mike Tirico gives his take on Mike Greenberg being an honorary captain for Northwestern's matchup with Syracuse, Eagles-Redskins, Robert Griffin III's role in Washington's offense and more. Tirico

• ESPN Radio's Sean McDonough dishes on Greeny being an honorary captain for Northwestern's matchup with Syracuse, Titans-Steelers and more. McDonough

• Super Bowl XXXVII champion John Lynch weighs in on Ravens-Broncos, how defenses will adjust to mobile QBs, Buccaneers-Jets, what to expect from Geno Smith and more. Lynch

• Greeny and Golic share their thoughts on the Broncos' win over the Ravens, Peyton Manning's record-tying seven TD passes and more. Listen

• Greeny and Golic make their picks for Week 1 of the NFL season in the "Stone Cold Lead Pipe Locks." Stone Cold Lead Pipe Locks »