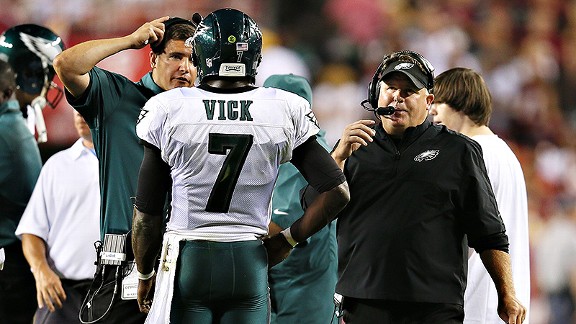 Rob Carr/Getty ImagesJon Gruden tells the guys about the Eagles' new-look offense, Robert Griffin III's health and more.
• Monday Night Football's Jon Gruden discusses the speed of Chip Kelly's offense, Robert Griffin III's return to the Redskins, mobile QBs, Steelers-Bengals and more. Gruden

• ESPN NFL Insider Adam Schefter shares his thoughts on whether the league considered suspending Ndamukong Suh, the Patriots' injuries and more. Schefter

• ESPN NFL analyst Herm Edwards weighs in on Ndamukong Suh's illegal block, Chip Kelly's style of play, what to expect from Week 2 and more. Edwards

• Two-time Super Bowl champion Jimmy Johnson talks about how defenses will attack Chip Kelly's offense, Colin Kaepernick's performance against the Packers, the Lions' handling of Ndamukong Suh and more. Johnson

BEST OF MIKE & MIKE PODCAST
JAYSON STARK'S MLB TRIVIA
Albert Pujols has now achieved 500 home runs and 100 steals. Who are the other two active players with 400 homers and 100 steals? Listen

FRANK CALIENDO
Our favorite moments with Frank Caliendo:
-Watch: 'A Visit from St. Nicholas'


-Watch: William Shatner


-Listen: #GolicButtPhoto voicemails


-Watch: Donald Trump


-Listen: Trick-or-Treat


-Watch: Stephen A. Smith


-Watch: Mel Kiper Jr.


-Watch: Charles Barkley


-Watch: Allen Iverson's rant


-Watch: Remembering Robin Williams


-Watch: LeBron James' letter

OFF-MIKES EPISODES
View episodes of ESPN.com's first Emmy winner, "Off-Mikes," a series based on the interactions of Greeny and Golic on "Mike & Mike."
-"Snook, Line and Sinker"


-"Wee-Wee Mon Sewer"


-"Raging Bull-Oney"


-"Bend It Like Golic"


-"The Wettest Yard"


-"Pomp You Up"


-"Throw Momma from the Chair"


-"Air Force Ton"


-"Night of the Living Chippers"

BEST OF MIKE & MIKE ON ESPN RADIO: FLY, EAGLES FLY