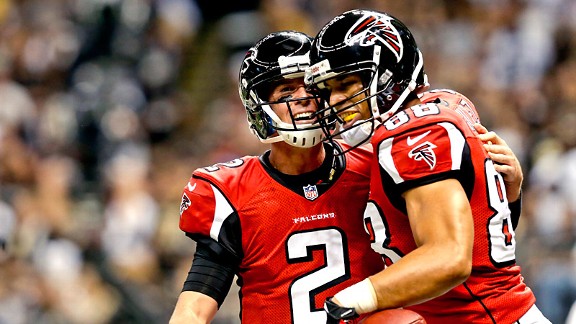 Derick E. Hingle/USA TODAY SportsMatt Ryan tells the guys about the Falcons' offense, how Atlanta is dealing with injuries and more.
• Falcons QB Matt Ryan shares his thoughts on the injury to Steven Jackson, how Atlanta's offense has fared during his team's 1-1 start, preparing to face the Dolphins and more. Ryan

• Monday Night Football's Jon Gruden dishes on Raiders-Broncos, Terrelle Pryor, Peyton Manning, Steelers-Bengals, Pittsburgh's offense, Andy Dalton and more. Gruden

• ESPN NFL Insider Adam Schefter covers the perception of Greg Schiano in Tampa Bay, the injuries to high-profile RBs, Andy Reid's upcoming return to Philadelphia and more. Schefter

• ESPN NFL analyst Darren Woodson weighs in on Johnny Manziel's potential, his expectations for Chiefs-Eagles, the state of the Jets, the Steelers' struggles and more. Woodson

MIKE & MIKE AT NBA ALL-STAR WEEKEND
MIKES AND ME
Now you can be pictured with Mike & Mike! Print this image, pose with the Mikes and tweet your photo to @MikeAndMike using the hashtag #MikesAndMe for a chance to be featured here and on the show. Watch

BEST OF MIKE & MIKE ON ESPN RADIO: BACK ON TRACK?