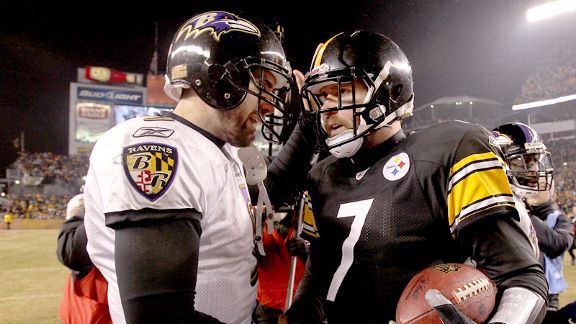 Nick Laham/Getty ImagesJoe Flacco tells the guys about the Ravens' rivalry with the Steelers, Baltimore's offense and more.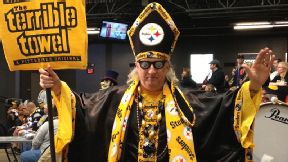 Justine DeLuco/ESPN RadioThis man showed up to see Mike & Mike.
• Ravens QB Joe Flacco dishes on preparing to face the Steelers, what rivalry games are like, Baltimore's 3-3 start, Matt Birk's weight loss and more. Flacco

• Steelers QB Ben Roethlisberger weighs in on his team's mentality during the 0-4 start, Pittsburgh's win over the Jets, getting ready for the Ravens and more. Roethlisberger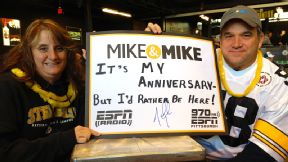 Justine DeLuco/ESPN RadioPriorities in Pittsburgh.
• ESPN NFL analyst Ray Lewis talks about Broncos-Colts, Rob Gronkowski's return, what the week leading up to a game between the Ravens and Steelers is like, Matt Birk's weight loss and more. Lewis

• ESPN NFL analyst Bill Polian offers his insight on Broncos-Colts, Peyton Manning's stoicism, whether it's wise for the Vikings to trade Adrian Peterson, how Jim Irsay's remarks affected Polian and more. Polian

• ESPN NFL analyst Ron Jaworski shares his thoughts about the impact of Jim Irsay's comments on Peyton Manning and Andrew Luck, which QB gives the Eagles a better chance to win, the expectations for Case Keenum and Josh Freeman and more. Jaworski

• Greeny and Golic make their picks for Week 7 of the NFL season in the "Stone Cold Lead Pipe Locks." Stone Cold Lead Pipe Locks »