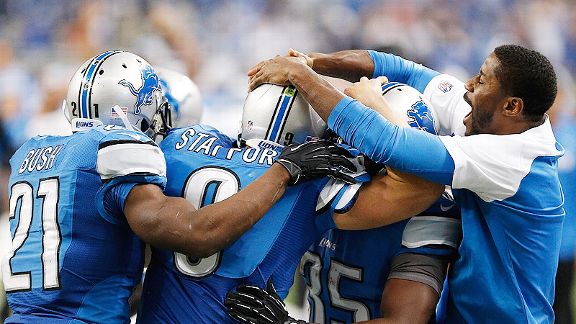 Shamus/Getty ImagesThe guys give their takes on Cowboys-Lions, Dolphins-Patriots, Redskins-Broncos and NFL Week 8.
• ESPN NFL analyst Cris Carter covers Cowboys-Lions, Dez Bryant's conduct, Calvin Johnson's big day, the state of the NFC East, the Patriots' offense, the Bengals' potential and more. Carter

• ESPN NFL analyst Mike Ditka discusses the Patriots' offense, the Redskins' handling of Robert Griffin III, Dez Bryant's demeanor during Cowboys-Lions, Calvin Johnson's dominance, the Chiefs' 8-0 start and more. Ditka

• ESPN NFL analyst Ron Jaworski weighs in on the Cowboys' leadership, the Patriots' offensive potential, Michael Vick's future, which team will win the NFC East and more. Jaworski

• ESPN NFL analyst Tim Hasselbeck talks about Robert Griffin III's performance this season, the Patriots' defensive needs, the emergence of Andy Dalton's supporting cast, Dez Bryant's sideline outburst and more. Hasselbeck

• Greeny and Golic react to Week 8 of the NFL season, including Cowboys-Lions, Calvin Johnson's historic day, Dolphins-Patriots, Redskins-Broncos and more. Listen


The Sporting Life
6:00 a.m. - 7:00 a.m. ET
Listen


Updates |

Deportes

BEST OF MIKE & MIKE PODCAST
JAYSON STARK'S MLB TRIVIA
Nelson Cruz could become the fourth player since 2010 to achieve back-to-back seasons with 40 home runs. Who are the other three? Listen

FRANK CALIENDO
Our favorite moments with Frank Caliendo:
-Watch: 'A Visit from St. Nicholas'


-Watch: William Shatner


-Listen: #GolicButtPhoto voicemails


-Watch: Donald Trump


-Listen: Trick-or-Treat


-Watch: Stephen A. Smith


-Watch: Mel Kiper Jr.


-Watch: Charles Barkley


-Watch: Allen Iverson's rant


-Watch: Remembering Robin Williams


-Watch: LeBron James' letter

OFF-MIKES EPISODES
View episodes of ESPN.com's first Emmy winner, "Off-Mikes," a series based on the interactions of Greeny and Golic on "Mike & Mike."
-"Snook, Line and Sinker"


-"Wee-Wee Mon Sewer"


-"Raging Bull-Oney"


-"Bend It Like Golic"


-"The Wettest Yard"


-"Pomp You Up"


-"Throw Momma from the Chair"


-"Air Force Ton"


-"Night of the Living Chippers"

BEST OF MIKE & MIKE ON ESPN RADIO: MONDAY MORNING QB