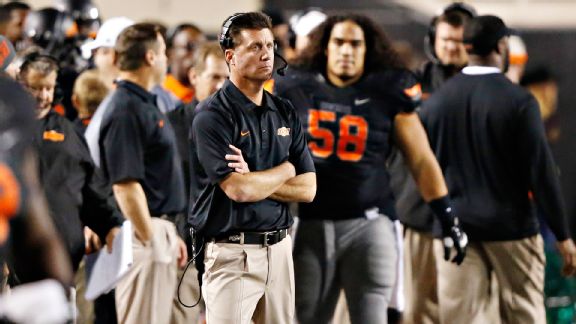 AP Photo/Sue OgrockiOklahoma State coach Mike Gundy talks about preparing to face Baylor and the Bears' improvement.
Thursday, Scott Van Pelt and John Buccigross cover the latest news on Alex Rodriguez, the Jameis Winston investigation and more. Listen to the best highlights of the show below!
Oklahoma State coach Mike Gundy comments on preparing to play Baylor, the Bears' defensive improvement, the aftermath of Sports Illustrated's series on the Cowboys, Dez Bryant's development and more. Listen

Tigers manager Brad Ausmus dishes on his management approach, the Tigers-Rangers trade, Ian Kinsler's abilities, sabermetrics-driven decision-making and more. Listen

ESPN The Magazine's Chad Millman weighs in on the consequences of the sexual-assault investigation in Tallahassee, the relationship between Sean Payton and Drew Brees, Chiefs-Broncos and more. Listen

SaintsReport.com's Mike Detillier talks about fan reaction to the penalty against Ahmad Brooks, whether the Saints can capture home-field advantage for the playoffs, New Orleans' receiving corps and improved defense and more. Listen

PTI's Michael Wilbon reacts to the Jameis Winston investigation and offers his insight on the investigation's effects on Heisman voting, Alex Rodriguez's decision to leave his grievance hearing, fan reaction to the Redskins' struggles and more. Listen

ESPN CFB analyst Robert Smith discusses Ed Orgeron's chances for the USC coaching gig, how the Jameis Winston investigation could impact Florida State, who will win the SEC East, Jordan Lynch's endurance and more. Listen

Scott and John share their thoughts on the latest developments involving Jameis Winston and discuss what this means for Winston and Florida State. Listen

PODCASTS
Ryen Russillo and Danny Kanell bring their own flavor to the game, mixing some pop culture with the latest happenings.