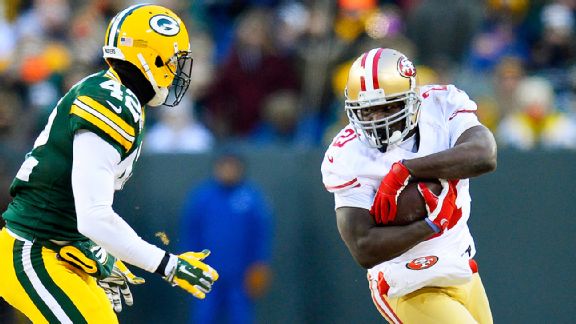 Mike DiNovo/USA TODAY SportsFrank Gore joins the show to talk about playing in the cold in GB and looks ahead to the Panthers.
Thursday, Scott Van Pelt and Ryen Russillo react to the Redskins hiring Jay Gruden as their coach, discuss the MLB Hall of Fame controversy surrounding Dan Le Batard and much more. Listen to the best highlights of the show below!
49ers RB Frank Gore discusses how terrible it was playing in the cold in Green Bay, what they're looking for against the Panthers, if they're a different team from the last time they played Carolina and much more. Listen

ESPN The Magazine's Chad Millman talks about how injuries factor into this week's lines, warns against overestimating teams based on good performances last week, shares his thoughts on the national championship and weighs in on Dan Le Batard's decision to give away his Hall of Fame vote. Listen

ESPN NFL analyst Mark Schlereth talks about the Redskins' hire of Jay Gruden, describes what makes a successful head coach in the NFL and previews this weekend's playoff matchups. Listen

PODCASTS
Ryen Russillo and Danny Kanell bring their own flavor to the game, mixing some pop culture with the latest happenings.