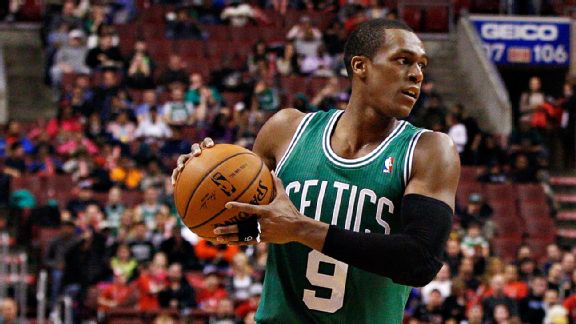 AP Photo/Chris SzagolaRyen A. Russillo and Jorge Sedano delve into NBA trade rumors and if Rajon Rondo will be moved.
Wednesday, Ryen Russillo and Jorge Sedano look ahead to Westbrook's return, talk NBA trade deadline and more. Listen to the best highlights of the show below!
Grantland's Zach Lowe discusses the trade deadline, if the Cavs are interested in moving Deng after their 5-game winning streak, Rondo's potential destination, if there are any potential buy-outs on the horizon and much more. Listen

ESPN NFL Insider Billy Devaney discusses the upcoming NFL combine, who's going to shine, why Sam Bradford has not lived up to the expectations and much more. Listen

ESPN NBA analyst Tom Penn on Marcus Thorton being sent to the Nets, what Brooklyn's new ceiling is with Thorton, if there are any new rumors about who might get dealt and much more. Listen

ESPN CBB analyst Jeff Goodman talks about what's next for Marcus Smart, if Michigan State can stay strong, if Syracuse can run the table, how much the pressure of an undefeated season weighs on a team and much more. Listen

PODCASTS
Ryen Russillo and Danny Kanell bring their own flavor to the game, mixing some pop culture with the latest happenings.