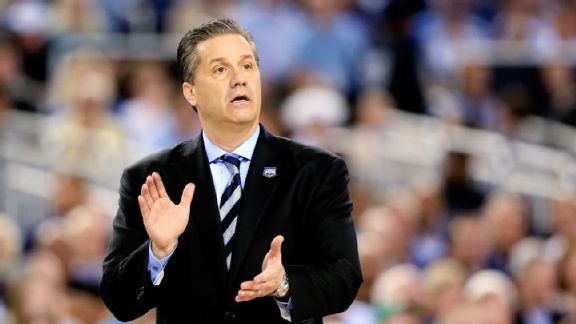 Jamie Squire/Getty ImagesScott Van Pelt and Ryen A. Russillo welcomed Kentucky coach John Calipari to the show.
Tuesday, Scott Van Pelt and Ryen Russillo discuss the playoff picture in the NBA, Stanford Steve's belief that dinosaurs weren't real and much more. Listen to the best highlights of the show below!
Kentucky coach John Calipari comments on the Wildcats' loss to Connecticut in the title game of the NCAA tournament, his interview with Bill O'Reilly and more. Listen

76ers G Michael Carter-Williams weighs in on Philadelphia's difficult season, dealing with losing, what winning the Rookie of the Year award would mean to him and more. Listen

White Sox P Chris Sale shares his thoughts on the criticism of his mechanics, how young pitchers are developed, the low expectations for Chicago and more. Listen

ESPN NBA analyst Tim Legler talks about which team is the biggest threat to the Pacers and Heat in the East, the playoff picture in the West, Andrew Bogut's injury and more. Listen

ESPN MLB Insider Tim Kurkjian covers the Braves' lineup, the state of the Cubs, Jose Abreu's potential, Jackie Robinson's legacy, Matt Moore's injury and more. Listen

PODCASTS
Ryen Russillo and Danny Kanell bring their own flavor to the game, mixing some pop culture with the latest happenings.