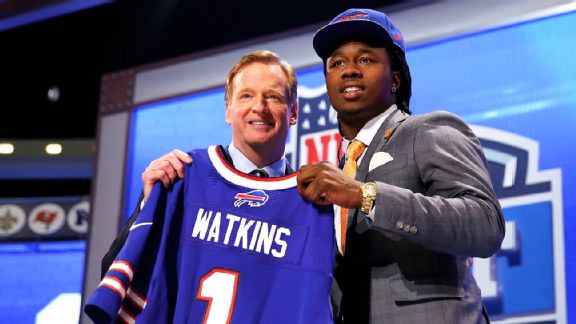 Elsa/Getty ImagesScott Van Pelt and Ryen A. Russillo welcomed Bills WR Sammy Watkins to the show.
Friday, Scott Van Pelt and Ryen Russillo discuss the first round of the NFL draft, the NBA playoffs and much more. Listen to the best highlights of the show below!
Bills WR Sammy Watkins dishes on being selected by Buffalo with the No. 4 pick in the NFL draft, his expectations for his rookie season and more. Listen

Browns WR Josh Gordon weighs in on why he wanted Cleveland to select Johnny Manziel, whether he would like to see his team draft another receiver and more. Listen

ESPN NFL draft analyst Kevin Weidl gives his takes on the physical nature of the NFC West, the teams that are the best at drafting prospects and more. Listen

PODCASTS
Ryen Russillo brings his own flavor to the sports talk game, mixing some pop culture in with the latest happenings in sports.