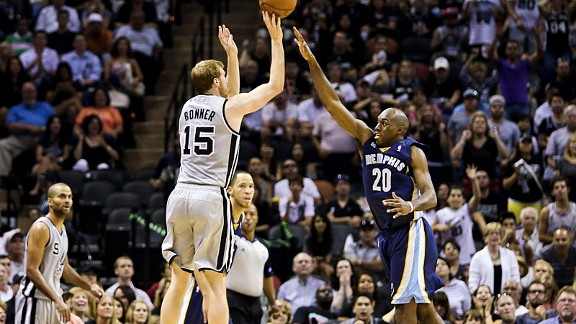 Joe Murphy/Getty ImagesSpurs F Matt Bonner joins SVP & Chris Broussard to discuss the Spurs playoff run, the WCF and more.
Friday, Scott Van Pelt and Chris Broussard talk about the Clippers' exit from the playoffs, what to make of Donald Sterling potentially suing the NBA and much more. Listen to the best highlights of the show below!
ESPN's Mike Tirico delves into the NBA Conference Finals, what separates the great teams from the good teams, how the Pacers have the chance to hit the reset button, what to say about the end of the Clippers season and more. Listen

ESPN CBB analyst Jeff Goodman discusses the biggest news piece from the NBA combine, why the combine is more of a posturing statement by agents, what he's hearing from teams about Embiid's back issues, why Dante Exum is the ultimate mystery guy and more. Listen

ESPN.com's Ian O'Connor on what makes the most sense for the New York Knicks, if the next coach needs to be "triangle-centric," what the benefits are of having Phil Jackson as the GM, who a surprise coaching candidate could be and more. Listen

Miami Heat F Shane Battier discusses his upcoming role against the Indiana Pacers, if the team they're facing is the team they expected all season long, if the Heat can play play small against Indy, if the Miami Heart are their own worst enemy and more. Listen

San Antonio Spurs F Matt Bonner wonders why he isn't getting more minutes after shooting 100% from the floor through the last series, how the Spurs plan to solve their issues against OKC, why they have problems against the Thunder and why he got a C on a chemistry test in college. Listen

PODCASTS
Ryen Russillo and Danny Kanell bring their own flavor to the game, mixing some pop culture with the latest happenings.