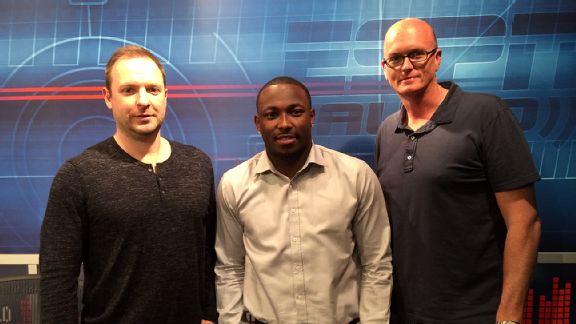 Ray Necci/ESPNLeSean McCoy joins the show to discuss his offseason and shares an accidental knee touch with SVP.
Monday, Scott Van Pelt and Ryen Russillo talk about Serge Ibaka's playoff-ending injury, the Pacers victory over the Heat in Game 1 of the ECF and much more. Listen to the best highlights of the show below!
Eagles RB LeSean McCoy dishes on what Chip Kelly is like, DeSean Jackson's departure, NFC East rivalries, where he ranks among NFL RBs and more. Listen

NBA draft prospect Andrew Wiggins weighs in on his time at Kansas, how he can improve, his expectations for the next level, the draft lottery and more. Listen

ESPN NBA analyst George Karl comments on the Pacers' win over the Heat in Game 1, how the Thunder will adjust to Serge Ibaka's absence and more. Listen

PODCASTS
Ryen Russillo brings his own flavor to the sports talk game, mixing some pop culture in with the latest happenings in sports.