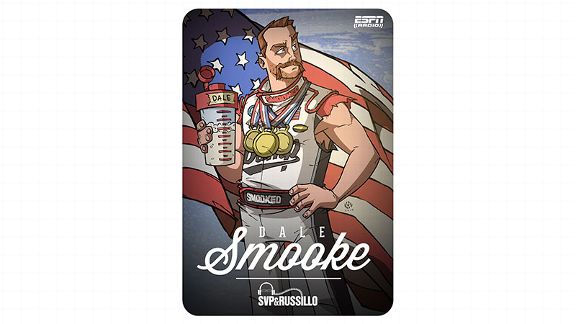 Kevin Roche/Kevjuice.comScott Van Pelt and Ryen A. Russillo didn't welcome Dale Smooke to the show on Wednesday.
Wednesday, Scott Van Pelt and Ryen Russillo discuss the Thunder's win over the Spurs in Game 4, Donald Sterling's decision to fight the NBA's lifetime ban and much more. Listen to the best highlights of the show below!
ESPN NBA analyst Jon Barry comments on Heat-Pacers, Indiana's complaints about the officiating, Lance Stephenson's style of play and more. Listen

ESPN NBA analyst Avery Johnson dishes on Gregg Popovich's handling of the Spurs' starters, Russell Westbrook's performance in Game 4, scoring PGs and more. Listen

GREATEST CLIPS
As SVP & Russillo comes to a close, take a look back at some of the show's best moments.
-Who's the Nerd?


-'Who's the Nerd?' continued


-Who's the Jerk?


-'Who's the Jerk?' continued


-How Young is a Dude?


-Ryen's out-of-rotation shirts


-Scott's out-of-rotation shirts


-Ryen's chair fail at Super Week 2014


-Super Bowl XLVIII jacket makes the rounds


-The show's supposed SEC bias


-Olbermann & Simmons


-The evolution of sports

ESPN THE MAGAZINE
You can also find the guys in ESPN The Magazine. SVP & Russillo on camp as NFL teams slog through the dog days of training. More »
SVP & RUSSILLO'S FAVORITE DROPS
INSIDER - SIGN UP TODAY!
Listen to SVP & Russillo -- commercial free, either streaming or as a podcast!
Russillo & Kanell
Wed. 1/27
PODCASTS
Ryen Russillo and Danny Kanell bring their own flavor to the game, mixing some pop culture with the latest happenings.
BEST OF SVP & RUSSILLO ON ESPN RADIO: SHOW IN REVIEW MAY 28