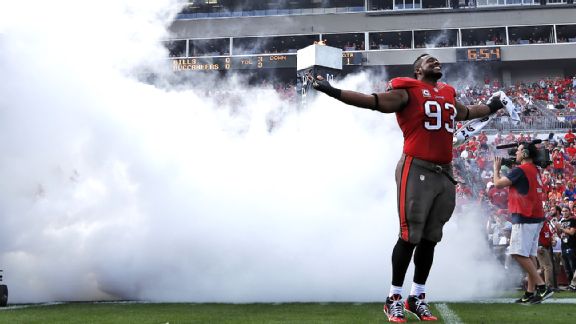 AP Photo/Chris O'MearaScott Van Pelt and Ryen A. Russillo welcomed Buccaneers DT Gerald McCoy to the show.
Friday, Scott Van Pelt and Ryen Russillo discuss the election of Rob Manfred to be MLB's next commissioner, the Bears' win over the Jaguars and much more. Listen to the best highlights of the show below!
Buccaneers DT Gerald McCoy gives his takes on his role in Tampa Bay's defense, how his team felt about Greg Schiano, Josh McCown, Mike Evans, Austin Seferian-Jenkins and more. Listen

ESPN's Rece Davis dishes on Alabama's QB situation, UCLA's confidence, Oklahoma's schedule, how Florida State is managing expectations and more. Listen

Yahoo Sports' Eric Edholm weighs in on the Jaguars' plan for Blake Bortles, the state of the AFC, Rob Gronkowski's status, the Packers' defense, his expectations for the Buccaneers and more. Listen

Scott and Ryen react to Notre Dame's investigation of potential academic fraud involving four players from the football team and more. Listen

PODCASTS
Ryen Russillo and Danny Kanell bring their own flavor to the game, mixing some pop culture with the latest happenings.