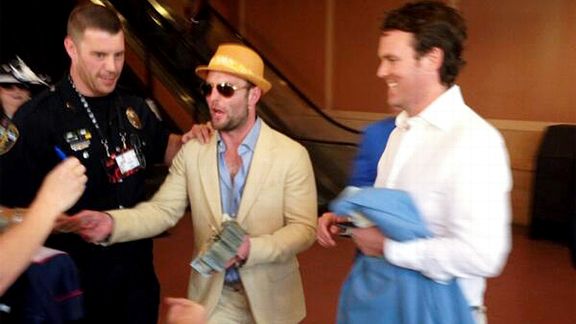 @Jeff_Novak/TwitterScott Van Pelt and Ryen A. Russillo cover the NFL's four-game suspension of Wes Welker and more.
Wednesday, Scott Van Pelt and Ryen Russillo discuss Wes Welker's suspension, the Cowboys' signing of Michael Sam to the practice squad and much more. Listen to the best highlights of the show below!
ESPN NFL Insider Chris Mortensen covers Wes Welker's suspension, the 49ers' offseason, Russell Wilson's potential, Matt Schaub's future, the Cowboys' addition of Michael Sam and more. Listen

ESPN Radio's Mark Schlereth shares his thoughts on how Wes Welker's absence will impact the Broncos, the 49ers' status, Super Bowl contenders and more. Listen

College GameDay on ESPN Radio's Brad Edwards comments on the College Football Playoff, the recent criticism of Alabama, his expectations for Michigan State-Oregon and more. Listen

ESPN MLB Insider Buster Olney dishes on whether Clayton Kershaw will be the NL MVP, the most boring team in baseball, the state of the Athletics and more. Listen

PODCASTS
Ryen Russillo brings his own flavor to the sports talk game, mixing some pop culture in with the latest happenings in sports.