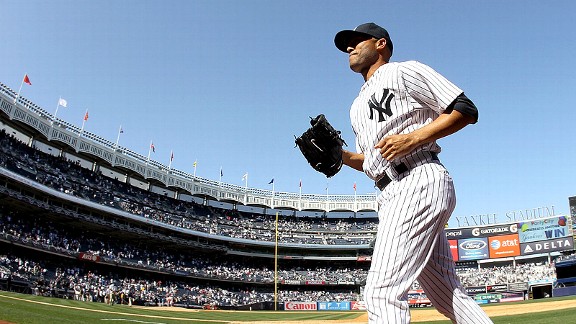 Jim McIsaac/Getty ImagesAfter a torn ACL, the career of Yankees closer Mariano Rivera may be over.
ESPN New York's Michael Kay says Mariano Rivera is respected by his teammates, opponents and the media and conducts himself with class and an elegance that is rare in sports. Kay says if he had to guess, he would say this is the end of Rivera's career. Listen

Angels pitcher Jered Weaver says he was a little worried about the last out of his no-hitter off the bat. Weaver says to be able to throw a no-hitter at home in front of friends and family was awesome. Weaver says he likes to be relaxed in the dugout but it got a little tense heading out for the 9th. Listen

ESPN's Mike Tirico says Carmelo Anthony needs the right mix of players around him. The Knicks have a really tough offseason ahead of them. Plus, Tirico talks about the Thunder. Listen

Indiana Pacers forward David West says he is comfortable in his role with his new team and likes what is happening right now in the playoffs. Listen

ESPN NBA analyst Jon Barry says he expects Oklahoma City to beat Los Angeles if they meet up in the next round of the NBA playoffs. Listen

SVP & RUSSILLO'S FAVORITE DROPS
PODCASTS
A daily best of SVP & Russillo on ESPN Radio.

ESPN's NBA Lockdown with Bruce Bowen covers all of the latest news, rumors and opinion in the NBA alongside ESPN's team of experts.